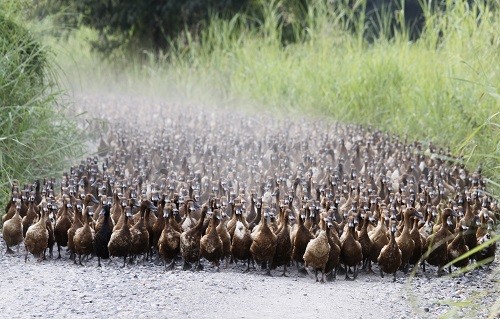 The Kerala government has declared a high alert across its three districts, after ducks found dead in Kuttanad tested positive for bird flu.
Duck plague was initially considered as the main cause behind deaths of nearly 20,000 ducks in the southern region of Kerala over the past few weeks. But now, tests conducted at the National Institute of High Security Animal Diseases (NIHSAD) at Bhopal have shown that the birds died of avian influenza.
Bird flu virus H5 is the reason behind the current outbreak that first appeared in the Ponge padam of Nedumudy panchayat in Alapuzha in the first week of November, The Deccan Chronicle reported.
As a precaution, the authorities have decided to cull all ducks and other poultry in the affected areas and have placed Alappuzha, Kottayam and Pathanamthitta on red alert, The Hindu Business Line reported.
Efforts to prevent bird flu outbreak are also on. Farmers have already been educated about the symptoms of the disease and provided with the medicines to prevent the avian flu. A restriction has also been placed on the sale and transportation of eggs and ducks in the affected areas to other parts of the state.
Meanwhile, Chief Minister Oomen Chandy has arranged for a high level meeting with officials from different state departments to discuss the situation.
The outbreak is expected to hit the lives of hundreds of people who make a living via duck farming.
Bird flu outbreak in Kerala has started causing panic in neighbouring states. Reports on Tuesday showed the possibility of a bird flu emergency being declared across Karnataka. Authorities from the Animal Husbandry Department are scheduled to discuss the situation in Vidhana Soudha today, according to Bangalore Mirror.
"Fear has spread faster than the virus.In reality, though, there is slim chance of the flu affecting poultry here. It is more likely to be contained in Kuttanad itself," MCR Shetty, president of the Karnataka Hatcheries Association, told Bangalore Mirror.