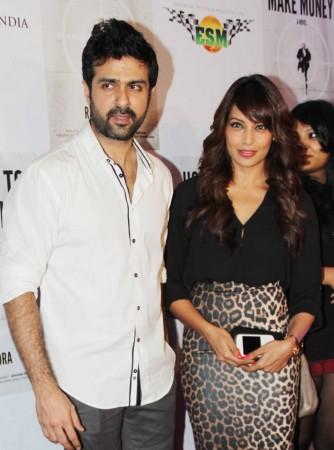 Bollywood actress Bipasha Basu has finally opened up about her relationship with Harman Baweja, after the actor recently admitted to dating the Bong beauty.
Harman had recently confirmed that he has been seeing the "No Entry" actress for quite some time, affirming that both of them were similar apart from the fitness factor.
"Our starting to see each other was very organic. Barring the fitness factor, we are very similar. She is a simple, straight-forward and honest girl who is caring and loving. For both of us, family and friends mean the most in the world and we are emotional, caring and simple," PTI quoted Harman.
Bipasha, who has been spotted with Harman on several occasions consistently refused to acknowledge their relationship and often used the cliched 'personal life' remark, while commenting on Twitter. But on Wednesday, the actress finally spoke about her equation with the "Dishkiyaoon" actor.
Stating the obvious!Yes Harman n Me r a couple :) Finally I have met a person who is a far better human being than I am.Blessed.

— Bipasha Basu (@bipsluvurself) February 19, 2014
The actress' confirmation comes a day after she had tried to brush off dating reports during the IIFA press conference.
"I am waiting for a proposal…I am going to be alone there (at IIFA awards in US) so I said I am waiting for an eligible bachelor," PTI quoted Bipasha.
Now that the couple has finally admitted to being together, speculations of the duo's future are rife. Just when reports of Bipasha and Harman's wedding plans made news, astrologers have hinted at a long term relation, which might culminate into a union for the duo.
The couple "will handle their relationship in a mature way. A long term relationship is indicated from July," The Hindustan Times quoted astrologer Nitin Manchanda. The view was cemented by P Khurrana who feels that "Their relationship will blossom. Marriage is on the cards!"
However, another psychic Prem Kumar Sharma begs to differ. "Bipasha may be serious, however Harman's planetary positions won't allow him to commit immediately," Sharma explained.
Looks like only time will tell whether Bipasha and Harman will make it or break up like many of the failed Bollywood romances