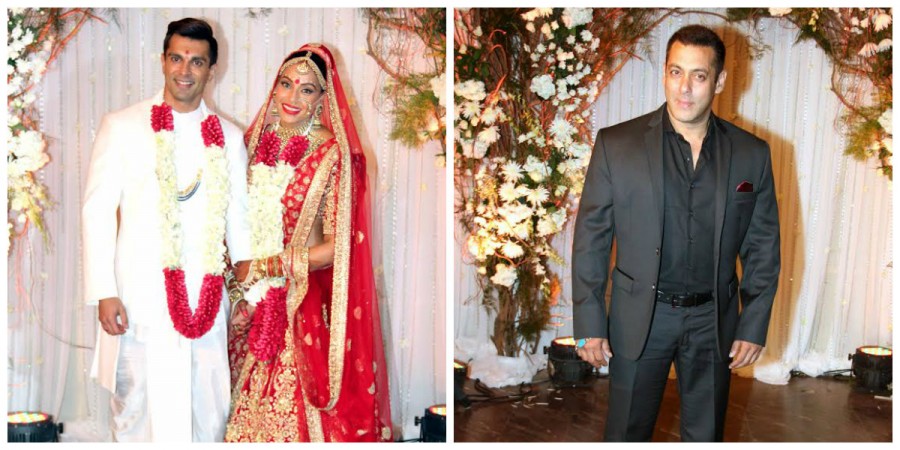 Following Bipasha Basu and Karan Singh Grover's marriage, the reception party was attended by several Bollywood celebrities, including Salman Khan. While the newly wed couple was very happy to have the "Sultan" actor by their side at the time of celebration, Salman made an apparently sarcastic comment on their marriage.
Salman was asked to comment on Bipasha and Karan's pairing and the actor told the Indian Express: "Jodi bahot achi hai aur I hope yeh Jodi tike..yeh important hai tikna." (Bipasha and Karan's pairing is great and I hope this pairing will last and that's important). Bipasha and Karan were also present by his side when Salman made the comment.
Although this is the Bengali actress' first wedding, Karan was married twice earlier and both his previous marriages ended up in divorces. Karan was first married to Shraddha Nigam in 2008 and the two got divorced after 10 months of their marriage. The "Alone" actor then tied the knot with Jennifer Winget in 2012, but they got separated after two years and recently got a divorce.
Salman was reportedly the last guest to arrive and leave the reception party. During the media interaction at the event, Salman was asked about his marriage plans but Bipasha chipped in saying that Salman should always be single. "I don't want Salman to get married. Salman should be nice to all the girls in the world. It is his wish if he wants to get married or not but he should just be happy," Bipasha said.
The wedding reception was held at a suburban five star hotel on April 30 and was attended by other stars like Shah Rukh Khan, Amitabh Bachchan, Abhishek Bachchan, Aishwarya Rai Bachchan, Ranbir Kapoor, Sushmita Sen, Sonam Kapoor, Sanjay Dutt and Riteish Deshmukh, among others.