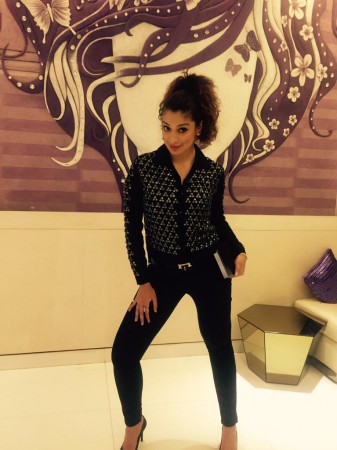 Actress Laxmi Raai was recently seen in AR Murugadoss' Akira starring Sonakshi Sinha. Now she is in the news once again not for her films, but for her personal life. Cricketer M S Dhoni's biopic is set to release on September 20 and her relationship with Dhoni is making news.
"I don't know why people are asking me about Dhoni's biopic and whether I'll be featured in it. I have nothing to do with Dhoni now and he has moved on in life. He is happily married and has a child. Why are people dragging me into this now that his biopic is coming out?" asks a miffed Laxmi Raai. The rumours of Dhoni and Raai's alleged relationship started in 2008 when she was the brand amabassador of the IPL team he was captaining. However, Dhoni has never commented on their relationship.
Laxmi Raai adds, "I hope there is nothing in the film about me! Since it is a biopic, the film should only be about M S Dhoni and not about his relationships. I think I should also not comment on such questions like Dhoni. No girl wants to be tagged with someone forever."
The actress states that she is busy with her south and Hindi films and says that her work should speak for itself. "There'll be a point where I'll start saying that I don't know Dhoni and only known him as a cricketer and national figure," says the Julie 2 actress.
So will she be watching M S Dhoni – the Untold Story? "Definitely. If I find time I am going to be watching it. For me it is just entertainment and a film. And movies are meant to be watched," states Laxmi Raai. The actress is currently completing Julie 2 in Bollywood and will move on to her south projects in October.
"I got a lot of appreciation for Akira though it was clearly a Sonakshi Sinha film. But I did the film only for A R Murugadoss sir," says the actress who is happy that the film has opened new doors for her.