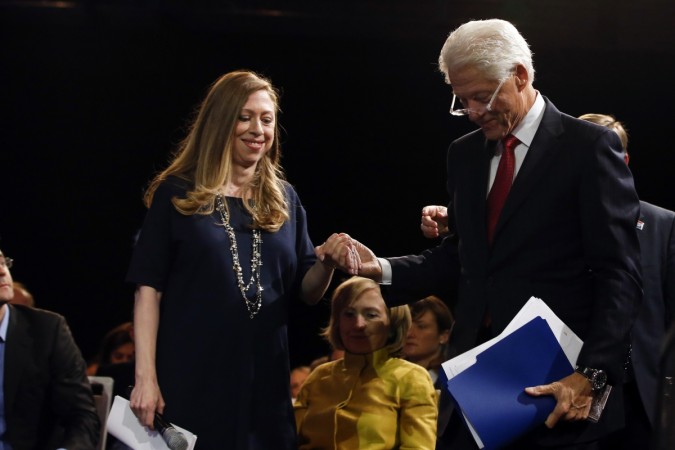 Hillary and Bill Clinton became grandparents on Friday, as their daughter Chelsea gave birth to a healthy baby girl, whom they quickly named Charlotte.
The former United States President announced the news via Twitter, copying a post written by their daughter referring to the delivery of the baby.
"Marc and I are full of love, awe and gratitude as we celebrate the birth of our daughter, Charlotte Clinton Mezvinsky," the post on Chelsea Clinton's Twitter feed as well as Facebook read. They did not add any other details.
The news of Chelsea and husband Marc Mezvinsky expecting their first child garnered quite a massive attention, considering the news came amidst Hillary's plans of a second presidential campaign. Some people are also comparing it to the frenzy that surrounded the birth of Prince William and Kate Middleton's son, Prince George.
Chelsea had announced the news of her pregnancy at the end of a Clinton Foundation event with her mother earlier this year; at the Lower Eastside Girls club in New York City, the Los Angeles Times notes.
"I just hope that I will be as good a mom to my child – hopefully children – as my mom was to me," Chelsea said at the event.
The 34-year-old had been a subject of a much talked-about joke cracked by President Obama in an event in New York.
"I was just discussing with President Clinton that if Chelsea begins delivery while I'm speaking, she has my motorcade and will be able to navigate traffic," Obama joked last week.
Chelsea and her husband Mezvinsky reportedly chose not to have a pre-natal sex determination on their baby, ABC News noted.
Chelsea is the only child of former US President Bill Clinton and former US Secretary of State Hillary Clinton. She worked as a special correspondent for NBC News until earlier in the year and now works with the Clinton Foundation and Clinton Global Initiative.
Her father had often mentioned about their joy of earning the title of grandparents.
"I want them to get up every day and look at the world with wonder and reverence. I want them to respect everyone they meet, whatever their background. I want them to be aware of all the people that make their world and not just the people that they are introduced to," Clinton had said in an interview with ABC earlier this week