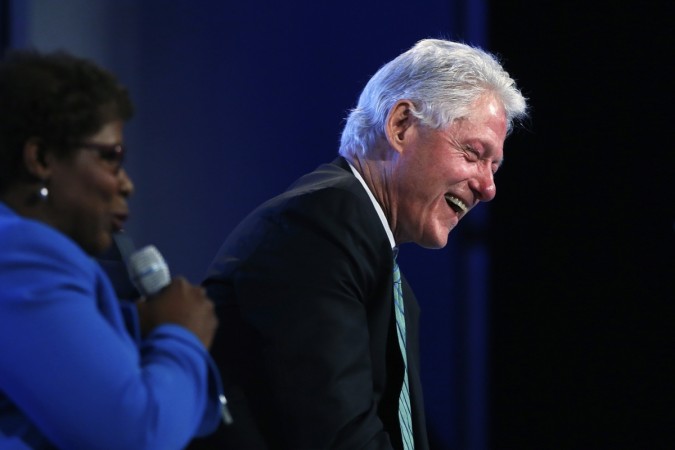 Bill Clinton has brushed off talks about Hillary Clinton's brain damage by throwing out a few jibes and a cutting rebuke to a top Republican's public doubt about her health.
The former president was asked about Hillary Clinton's health at a fiscal summit in Washington, D.C., after Karl Rove questioned her capacity for the White House last week, and reportedly said she had brain damage after she was hospitalized in late 2012.
"That embodies that old saying, consistency is the hobgoblin of little minds," Clinton told the audience. "First they said she faked her concussion, and now they say she's auditioning for a part on 'The Walking Dead.'"
As the audience laughed, he added: "You know, whatever it takes."
Clinton went on to say that he was "dumbfounded" by the issue saying "there's nothing to it"
"As far as I can tell, she's in better shape than I am," Clinton, a Demoract, said of his wife, 66.
This comes after New York Post reported on Tuesday that Rove, the man behind George W Bush's election to the White House, had told an audience in Los Angeles last week: "Thirty days in the hospital? And when she reappears, she's wearing glasses that are only for people who have traumatic brain injury? We need to know what's up with that."
Hillary Clinton was, in fact, in hospital for about three days after falling ill with a stomach bug in December 2012. Reports at the time had suggested that after becoming severely dehydrated, she fell at home and struck her head, suffering from concussion. Doctors diagnosed a blood clot when she was in hospital.
Rove has now, however disputed the New York Post's report.
"I didn't say she had brain damage. I said she had a serious health episode," he told Fox News.
"This was a serious deal. She basically was out of action," he said adding: "She spends over a month fighting this...And they're not particularly forthcoming."
Democrats and some political analysts have said that Rove was trying to inject concerns about Hillary Clinton's health into the public debate because the race for 2016 presidential race was nearing.