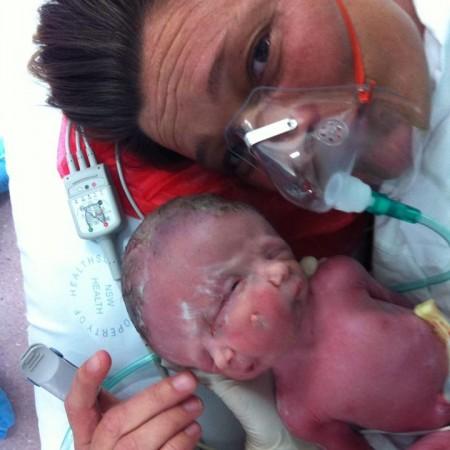 In a rarest of a rare case, a pair of conjoined twins born in Bihar share all vital organs as well as skin. The twins born on Wednesday evening at a private health clinic in Buxar district of Bihar share one pair of legs, but have two separate pairs of arms. Such cases occur once in every 200,000 live births and their survival rates are also meek, the Daily Mail reported. Although conjoined twins are mostly of the same gender, in this case, the conjoined twins are of male and female sexes.
Nearly 40 to 60 percent of such cases are stillborns (babies who show no signs of life at the time of birth), whereas 35 percent of such babies survive for only one day, according to the University of Maryland, medical centre.
The conjoined twins have been admitted to a bigger health facility, Sadar Hospital in Buxar, where doctors are closely monitoring the situation.
There is only 5 to 25 percent success rate of survival for this case of conjoined twins.
The doctors at Sadar hospital told Daily Mail that only one genital was visible, which was of the girl.
"Even though the second genital is missing, we suspect the face of the second baby is a boy, which makes this case even more rare as conjoined twins are usually of the same gender," pediatrician Raj Kumar Gupta said.
He added that the twins were fused from the waist and only one genital, of the girl, was visible.
Experts say that conjoined twins are formed from the same fertilised egg, which doesn't split into two after fertilisation. The developing embryo starts to split into identical twins during the first few weeks after conception, but stops before the process is complete. The partially separated egg develops into a conjoined foetus.
Meanwhile, the parents of the conjoined twins are devastated and said that they conducted regular check-ups and ultrasound scan of 24-year-old Shivrajo Devi, the mother of conjoined twins, but it did not reveal she was pregnant with twins.
The doctors have advised the couple to take their children to Delhi for further treatment.
The conjoined twin's father, Chota Singh, is a factory worker and he said that his joy has turned into despair.
"They told us the babies would be needed to be kept in a glass box and we should take them to big city like Delhi for their treatment," Shivrajo, who has two older children, was quoted by the Daily Mail as saying.
"I cannot believe my children are fused together. I am heartbroken and had hopes that doctors can save their lives but with doctors turning them away, I do not know what will happen to them now," the mother added.