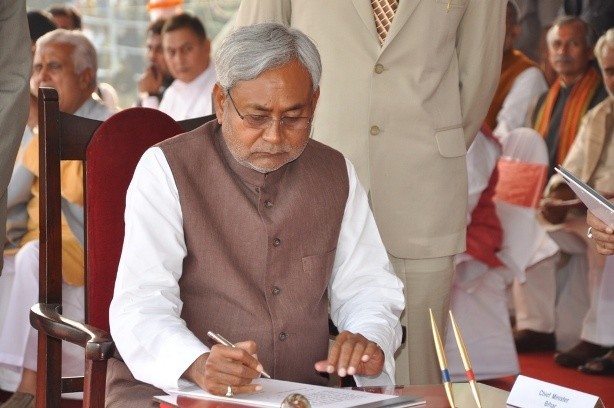 Bihar Chief Minister Nitish Kumar on Wednesday won the trust vote in the special session of the State Assembly, which he moved after snapping ties with its alliance Bharatiya Janata Party (BJP).
The Janata Dal United, or JD(U), ended its 17-year alliance with the BJP-led National Democratic Alliance (NDA) on Sunday over the decision of the BJP to make Gujarat Chief Minister Narendra Modi as the chief of campaign and election committee for the 2014 general elections.
JD(U) comfortably won the trust motion with 126 MLAs, including four Congress members, one CPI and four Independents, voting in favour of the government. Twenty four legislators, including 22 RJD members and two Independents, voted against, while BJP (91 members) and LJP (1 member) staged walkout.
Kumar thanked the Congress, who supported the party in the trust vote, but said that people should not read too much into it.
Meanwhile, he took a dig at Modi, over whose elevation to BJP's chief of campaign and election committee made JD(U) to break alliance with NDA. He said that he had made it clear not to have any connection with Modi, accusing him of not checking the communal riots of 2002, in which hundreds of Muslims were killed in the state.
"In 2005, for the state election, did an outsider come here? Was that person allowed here in 2009 for the national election campaign?" NDTV quoted the CM as saying in the Assembly. He said that his party will not compromise on secularism.
"The Bihar model is truly inclusive. We leave nobody behind. Hindus, Muslims, upper caste lower caste... we take them all into account in Bihar," he added, indirectly hitting out at Modi, who is accused of not helping the poor in the state.
The decision of the BJP to make Modi the chief of campaign and election committee for next year's elections created furor within the party besides the JD(U). Senior party leader L K Advani resigned from all party posts, opposing Modi's elevation. However, he withdrew his resignation after creating mayhem with the party for almost two days.
With JD(U)'s exit, the BJP-led NDA has now been reduced to just a three-party alliance - BJP, Akali Dal and Shiv Sena.