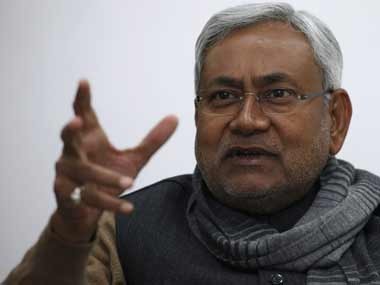 Bihar chief minister Nitish Kumar will seek a trust vote in the State Assembly on Wednesday to determine if his government should continue in the state after snapping ties with its alliance Bharatiya Janata Party (BJP).
The Janata Dal United, or JD(U), ended its 17-year alliance with the BJP-led National Democratic Alliance (NDA) on Sunday over the decision of the BJP to make Gujarat Chief Minister Narendra Modi as the chief of campaign and election committee for the 2014 general elections.
Kumar is set to win the vote of confidence despite breaking the alliance with the BJP. He is perhaps the first CM in the state to seek trust vote without being asked by any party.
The JD(U), which has 118 MLAs in the 243-member assembly, needs 122 members for a simple majority. It has reportedly got the support of four independent MLAs, one Lok Janshakti Party (LJP) MLA and four Congress members, thus ruling out any chances of stepping down.
The BJP, which has 91 members, will vote against Kumar's government, and Rashtriya Janata Dal's (RJD) 22 legislators will also oppose the motion.
BJP leaders are expect to throw tirade and criticise JD(U) government before the motion is put to vote. Some party leaders also demanded the resignation of Kumar, claiming that the people of Bihar voted for JD(U)-BJP alliance.
The decision of the BJP to make Modi the chief of campaign and election committee for next year's elections created furor within the party besides the JD(U). Senior party leader L K Advani resigned from all party posts, opposing Modi's elevation. However, he withdrew his resignation after creating mayhem with the party for almost two days.
With JD(U)'s exit, the BJP-led NDA has now been reduced to just a three-party alliance - BJP, Akali Dal and Shiv Sena.