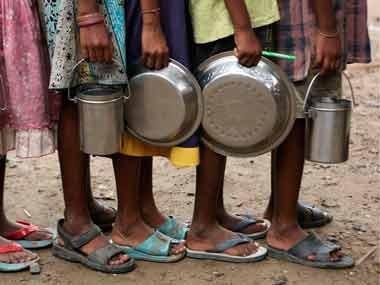 The death toll in Bihar mid-day meal tragedy rose to 27 with over 30 children, who had consumed the contaminated food, still in hospital.
The Human Resource Department officials have reached the Government Primary School in Mashrakh block, 25 kilometers from Chhapra, where the children had their meals on Tuesday, to take food samples and monitor conditions.
The children, aged below 10, had fallen seriously ill after eating the free mid-day meals provided by the local government school.
Aggrieved parents and relatives buried the bodies of their children in front of the government school as a form of protest. Violent protesters blocked roads to the village and set fire to government vehicles including police jeeps.
Opposition parties - RJD, BJP and CPI(M-L) called for a bandh on Wednesday in Chhapra, in the wake of Tuesday's tragedy.
State Education minister PK Shahi said that traces of organic phosphorous were found in the meals served to the children. "It is a criminal case of poisoning," he said adding that the absconding school principal, Meena Kumari, is responsible for the incident.
Shahi talked to the cook, who is also hospitalized after taking the meal, and found that the cook had complained about a foul smell in the mustard oil used for preparing the soya curry that day.
Shahi said the ingredients used for cooking the meals were from a store owned by the principal's husband Arjun Rai, who he claimed is a member of the Opposition political party RJD, reported TOI.
When police tried to contact the headmistress at her house on Wednesday, they found the doors locked. No arrests have been made so far.
Following the incident, Chief Minister Nitish Kumar has issued instruction for principals and cooks of every government school to taste mid-day meals first before serving them to students.
Another midday meal poisoning incident was also reported in Bihar wherein 50 children fell sick at the Navatolia Middle School, 25 km from Madhubani. A dead lizard was found in the food served to the students.