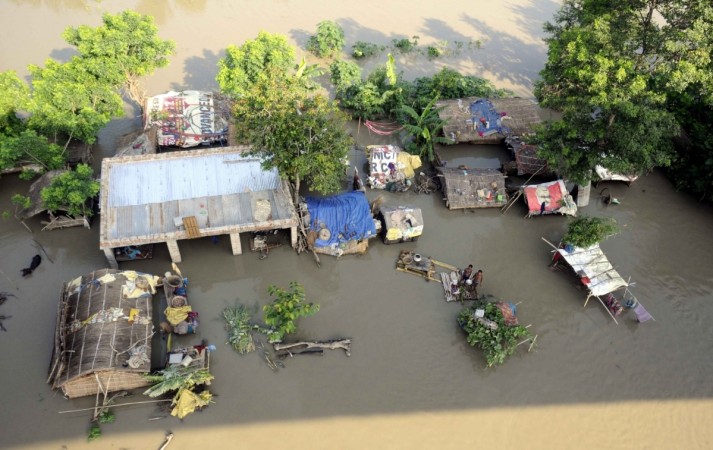 Floods continue to wreak havoc in Bihar with the death toll rising to 153 after four more deaths were reported from the districts of Bhojpur and Begusarai.
Another 12 panchayat areas were inundated affecting over 34 lakh people in 12 districts of the state, the Disaster Management Department said on Saturday.
The floods, triggered due to a spate in the Ganga, Sone, Punpun, Burhi Gandak, Ghaghra, Kosi and other rivers, have affected 2,037 villages under 565 panchayats of 74 blocks in the state, according to the Disaster Management Department's statement.
The Ganga is still flowing above the danger mark in seven places - Digha Ghat, Gandhi Ghat, Hathidah in Patna, Bhagalpur and Kahalgaon in Bhagalpur district, besides in Munger and Buxar districts. The waters have, however, receded in a few places including Gandhi Ghat, Digha Ghat and Hathidah in Patna.
The statement added that around 4.97 lakh people have been evacuated from the flood-affected districts of Buxar, Bhojpur, Patna, Vaishali, Saran, Begusarai, Samastipur, Lakhisarai, Khagaria, Munger, Bhagalpur and Katihar.
According to media reports, River Punpun is also flowing above the danger mark in Sripalpur with flood waters having entered the Naugachia divisional jail, following which, more than 200 prisoners were shifted to the Bhagalpur central jail.
The government has deployed several SDRF rescue teams and around 2,571 boats for evacuation, while 544 relief camps have been set up providing shelter to around 2.66 lakh people. According to the Indian Express, a total of 21 National Disaster Response Force (NDRF) rescue teams have been deployed to assist in the rescue operation.
The release also stated that the rescued people are being provided medical aid by around 328 teams. Around 151 relief camps have been set up for animals alone.
The authorities are trying to determine the total number of areas affected due to floods and areas under cultivation. They are also trying to assess the damage done to the crops, the statement said.