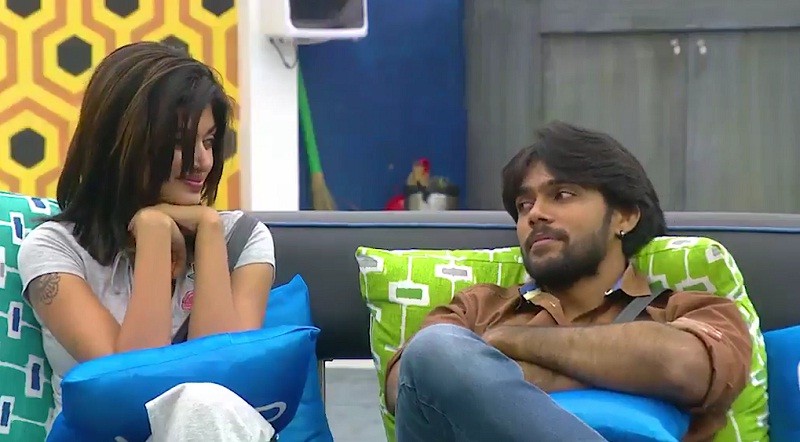 Oviya and Aarav, who shared a warm relationship in the first two weeks, stayed away from each other for some time in Bigg Boss Tamil. Well, now they are together again. Their friendship has been rekindling in the last few days. Unsurprisingly, it has not gone well with other inmates, especially Julie.
In the latest promo of Bigg Boss Tamil, Julie is seen making a sarcastic comment on their relationship. While speaking to Raiza, she shares that the decision to be friends with Oviya will backfire Aarav.
In Wednesday's episode too, there were gossips about them and Raiza was heard pointing out to the inmates that he was already engaged.
Meanwhile, Shakthi, in the latest promo, tells Gayathri that either Aarav or Julie will be shown the door this week. It has to be noted that there is no elimination this week, but the inmates are not aware of the fact.
Julie-Oviya Fight
Julie has been sharing cold vibes with Oviya for about two weeks now. Last week, when she was going through some physical pain, Gayathri, Namitha and Oviya believed that she was just making drama, but only Oviya had come to her help.
Yet, Julie snubbed her and spread lies about Oviya that created a lot of issues in the house. Although she is not at fault, Oviya repeatedly requested Julie to let go the issue. But Julie is unwilling to sort out the differences and has refused to even talk to her.
Gayathri-Oviya's equation
Before wrapping up the episode on Tuesday, a teaser showed Bigg Boss calling both Gayathri and Oviya inside the confession room to assign them a task. The two, like in interviews, asked each other several questions that would clear all their misunderstandings.
Another promo posted on Vijay TV's Facebook page showed Oviya breaking down in tears during the interview and Gayathri consoling her. This task was expected to end their tussle and pave way for them to turn good friends in the days to come. People felt that the channel was doing the damage control by giving an image makeover.
However, the outcome of the conversation was that Oviya, from now on, would not share her opinions on everything thereby not to hurt the inmates.
While Oviya has agreed to the condition and was happy with the positive development, Gayathri has remained the same. Even though she claimed that the issues were sorted out, the choreographer has apparently continued to hold the same feelings towards Oviya like before.
Below, find the audience's reaction to the latest development in the form of memes: