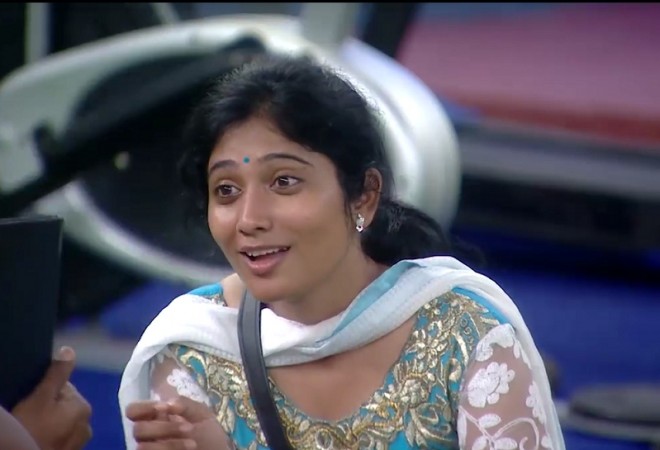 Julie has been pushed to the danger zone once again. In the latest elimination process held on Monday, July 31, she got the maximum vote along with Oviya and Vaiyapuri.
She entered the house with a non-filmy background and was initially bullied by Harathi and Gayathri. It was Oviya who consoled her and stood by her during the tough days. The underdog gained massive sympathy and was repeatedly saved by people from elimination.
But over the weeks, Julie has snubbed Oviya and teamed up with Gayathri. This has apparently irked the viewers.
Also, Julie was caught spreading lies about Oviya by Kamal Haasan and she was embarrassed in front of everyone. She refused to admit her mistake and repeatedly snubbed Oviya.
Now, the fans of Oviya and audience, in general, who want her out of the show. Celebrities like Sripriya and singer Chinmayi have extended their support to Oviya, while denouncing Julie.
Meanwhile, Bindu Madhavi's entry to Bigg Boss Tamil house is expected to unsettle some contestants. The latest promo shows the actress asking Gayathri about Bharani's episode and why she did not stop him when he tried to jump out of the house.
Below, we bring select tweets against Julie:
#BiggBossTamil‏: Finally its time to pack your bags #Julie This time we're gonna make sure that v don't disappoint you from "Getting Evicted" #BiggBossTamil
Team Oviya‏: Ok Guys..Let's Eliminate #Julie this week #BiggBossTamil
Sridhar M: #BigBossTamil #OviyaArmy it's important #Vaiyapuri needs equal votes to eliminate #Julie, plz split your votes to avoid any surprises
Suhail‏: Guys put some votes for #Vaiyapuri also, else #Julie wil escape this time. #OviyaArmy #BiggBossTamil
Sridhar M: plz split your votes 30:20, 25:25 between #Oviya #Vayapuri, do not give a slimmest chance for #Julie