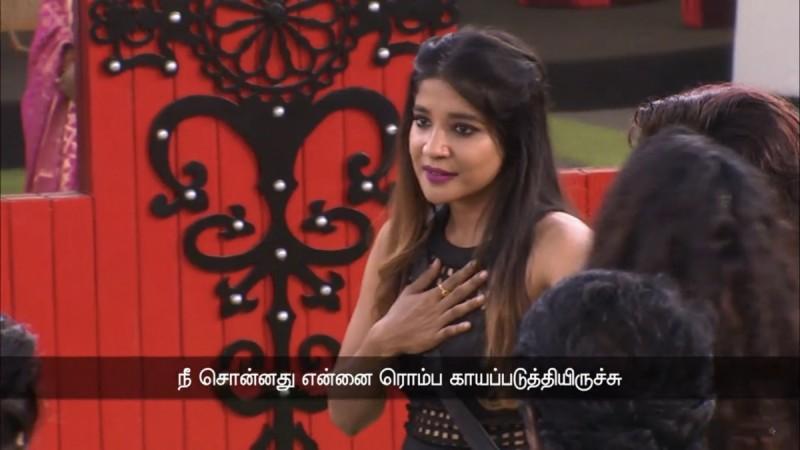 Sakshi Agarwal has ran out of luck as the actress is finally eliminated from Bigg Boss Tamil 3. The actress had managed to be in the game in the last couple of weeks although the audience at large had been keen to see her eviction.
She is the seventh contestant to be shown the door after Fathima Babu, Vanitha Vijayakumar, Mohan Vaidya, Meera Mitun, Reshma and Saravanan. Apart from Sakshi Agarwal, Losliya and Abhirami were also in the danger zone.
Sakshi Agarwal had entered the house on the first day and stayed in the show for 49 days. She had good relationship with Vanitha Vijayakumar, Sherin and Abhirami Venkatachalam. The model-turned-actress used to bond well with Kavin in the initial days, but their relationship strained after he started getting closer with Losliya.
In fact, there was lot of drama inside the house over Kavin-Losliya's friendship. The unnecessary issue created by Sakshi did not go well with the audience. Further, she was caught telling lie, back-biting and creating rift among the inmates in the house which gave a stronger reason for the viewers to eliminate her from Bigg Boss Tamil 3.
However, there was a belief among the fans that Sakshi Agarwal would be given an opportunity to continue her journey in the show by keeping her in the secret room in Kamal Haasan's show. [Check out the audience's response to her eviction below]
Anjana: One of the deserving contestant among women #SakshiAgarwal has been evicted from the house. It's good for her stay away from some fake ppl! I wish her career to be bright #BiggBossTamil3

Yugendra Kumar: for god's sake #SakshiAgarwal father is sitting in the set, is it necessary to show kavin-losliya footage and hurt her and embarass even more?is this how u give a farewell?
#BiggBossTamil3

jai shree: #SakshiAgarwal a very level headed person
Cutest send off video
Regardless of #BiggBossTamil3 , She surely has fans who love her looks and style
She for sure will land a lot of good roles
She surely has many fans in guys could see ppl shaking hands with her on her exit

nalini❤: The way #SakshiAgarwal work out from house proud of u girl.. I expect tears bt u walk off with smile and positive vibes even to tht persons who hurted u, u still can hug and gv them nice words! Its shows urself not that bad! God blss
#BiggBossTamil3
#OviyaArmy

NITHYA SUPPORTER: Suddenly viewers have amnesia & thinking the only reason people don't like sakshi is because of the love triangle...no it's because from day 1 she's been manipulating & lying during various situations, i.e meera/mugen issue, abi/madhu issue, etc. #BiggBossTamil3 #biggbosstamil

Sofi: If not for kavin issue, sakshi would have cross es atleast 70 days in BB house, many ppl liked how she played physical tasks #BiggBossTamil3 #BiggBossTamil
The Kamal Haasan-hosted show started its airing from 23 June. Fathima Babu, Vanitha Vijayakumar, Mohan Vaidya, Reshma Pasupuleti, Saravanan, Mugen Rao, Sandy, Tharshan, Sherin Shringar, Cheran, Abhirami, Kavin, Jangiri Madhumitha, Sakshi Agarwal and Losliya gad entered the house on the launch day, while Meera Mitun joined them a day later. Kasturi Shankar is given wild-card entry to the house this week.