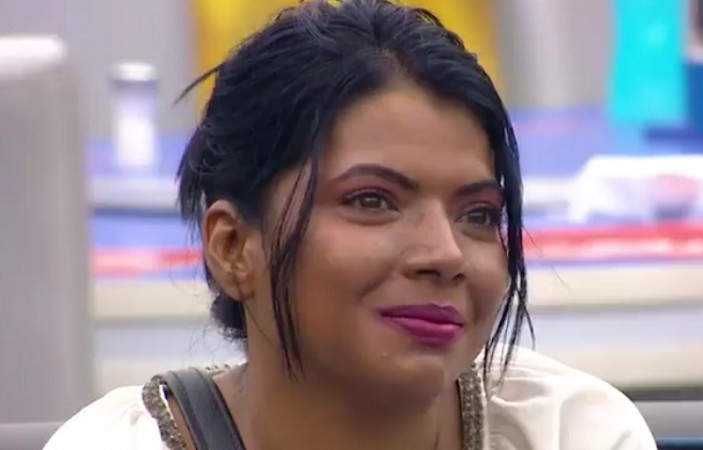 Kaajal Pasupathi, who was recently seen in Kamal Haasan's Bigg Boss Tamil, is part of a shocking video clip! The actress has been spotted in a gents toilet and the video has now gone viral. Well, before your imagination runs wild, let us clarify that she entered the toilet to promote her upcoming movie Aayirathil Iruvar.
In the clip, Kaajal Pasupathi reveals that a politician has kept his money in Swiss bank. She was not worried as his daughter was with her. Now, the kid has been kidnapped, leaving her in a state of shock. This is the story of the movie, which hits the screens on September 22.
The actress says that she is not doing a comedy villain in Aayirathil Iruvar like in her previous works, but she is a serious don.
The strategy to come out with this promo is apparently working in favour of Aayirathil Iruvar as it is helping the people to take notice of the Tamil flick. People on social media have already given a thumbs-up for the clip.
Aayirathil Iruvar is a thriller in which Vinay Rai, Samuthrika and Swasthika are in the leads. The film has Pradeep Rawat, Rethika Srinivas, Aruldoss, Ilavarasu and others in the cast. It has Bharathwaj's music, Krishna Ramanan's cinematography, and Kevin's editing.
Saran has written and directed the flick, which is jointly bankrolled by Subha Saran and Sankar Krishnamoorthy.
Meanwhile, Kaajal Pasupathi is reportedly getting a lot of offers post her stint in Bigg Boss Tamil. Although she stayed for just a few weeks, she managed to get a lot of recognition. Aayirathil Iruvar is the first movie to be released after she was out of the Kamal Haasan show.