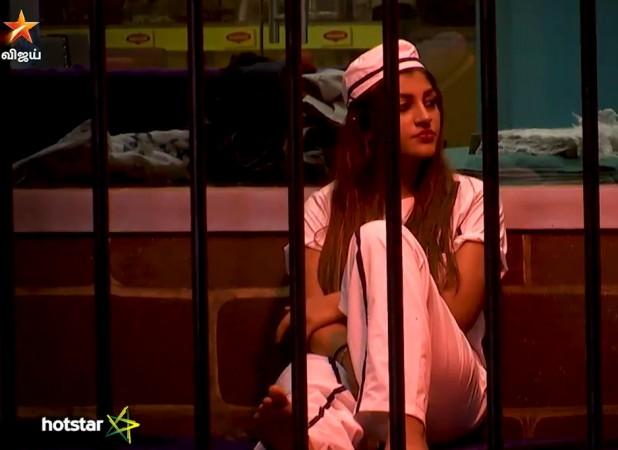 Yashika, Thadi Balaji, Ponnambalam, and Nithya are facing elimination this week on Bigg Boss Tamil 2. The audience witnessed a unique type of nomination where the inmates suggested the name in batches.
Yashika, Aishwarya Dutta, and Mahat Raghavendra were asked to come to the confession room where they were asked to nominate one candidate among the three. It took them by a surprise and after much deliberation, Yashika's name was nominated.
Likewise, Daniel, Ramya, Nithya, and Riythvika were called in a batch and Nithya was nominated. Balaji, Mumtaz, and Janani followed next, and Balaji was okay with landing in danger zone once again.
Ponnambalam, Sendrayan, Shariq, and Vaishnavi were called in a group and Ponnambalam was nominated.
Looking at the response on social media, one gets an impression that Yashika was a little overconfident as she agreed to be nominated to save Mahat and Aishwarya. The moment she was in the danger zone, netizens started celebrating the occasion, while asking people to vote her out from Bigg Boss Tamil house this week.
Tweety Tweetz: Did u vote for bigg boss today? #BiggBoss2 #BiggBossTamil #vijaytelevision #VivoBiggBoss U can evict balaji next week also, but yashika wouldn get nominated so easily. Grab the chance and evict her: safe the other three and spread ur votes. #Nithya #PonambalamArmy #MumtazArmy

Roopii᷈: To show the power of people's vote sadly we have to use it on yashika! Ppl need to prove Mahat, Shariq, Aish & Danny a point that people hate their guts in the house! they should calm their hormones & voices down #biggbosstamil2 #biggbosstamil #vivobiggboss

blue: Please vote for Nithya. At this point, ppl are trying to evict yashika. She might be saved. But in this process pls dont forget nithya might be the scapegoat. Between nithya and balaji, clearly she is the better person. #votefornithya
People have been unhappy with her behaviour along with Mahat, Aishwarya, and Shariq in the house. The issue with Ponnambalam has not helped the cause.
Nonetheless, her fans are trying their best to defend her on social media sites and want to save her this week from elimination and there select-few comments are here.
sanp0221: So now everybody forgot about #Balaji s abuses and targeting #Yashika now seriously people and their short term memories #Yashika is a far better contestant . She's headstrong opinionated and good task doer she's apt for this game #biggbosstamil2
Content is definitely filtered be it words or actions and we don't know which s more n which s less... so i want to give a chance to #Yashika becos she s a better contestant that fits this show than #Balaji who's always whiny #biggbosstamil2

@vijaytelevision planning for a new show name called #NaamaVettu1stNight #NammaVettuKalayam part 2

1st guest for the show is #Mahat and #yashika #BiggBossTamil #BiggBossTamil2 #Biggboss2 pic.twitter.com/HmCM5wFM5r

— ஹரிஷ் (@HaRisH_SiMbU) July 5, 2018

ஆட்டம் ஆரம்பம்#PonnambalamArmy Officially Started❤❤ Follow & Support @PonambalamArmy நல்லவனுக்கு நல்லவன்#BiggBossTamil #BiggBossTamil2 #BiggBoss2Tamil #BiggBoss2 #VivoBiggBoss #BiggBoss #OviyaArmy #MumtazArmy #JananiArmy #SenrayanArmy #Ponnambalam #பிக்பாஸ் pic.twitter.com/O6rVG8Ab8n — Ponnambalam Army (@PonambalamArmy) July 10, 2018

Factu Factu pic.twitter.com/wp5PrYoRu9

— Anegan Rocky Nanda (@dhanush_nanda) July 10, 2018

#BiggBossTamil #BiggBossTamil2 எப்பா சாமி உலகமகா நடிப்பா இருக்கே... இந்த சீசன் #BiggBossTamil2 உள்ள இருக்கிற 90% பேரு கிட்ட பச்சோந்தியே தோத்து போய்டும் போல... எழுந்து நின்னு கை தட்டுன பக்கிங்க எல்லாம் இப்போ பொன்னம்பலத்துக்காக உருகுதுங்க pic.twitter.com/uB8cBq3xup — BiggBossTamil 2 (@Befrank20) July 10, 2018

Somehow this made my day looking at the actions happening in the house, infront of camera and people around this where it might end up!! Tamaseh tamaseh #BiggBoss2Tamil #Mahat #Yashika #MahatHaterArmy pic.twitter.com/wl5ik9SZH8

— Mahat Haters Army (@MahatHatersArmy) July 5, 2018

prasad money raj: #Yashika might always sound loud or rude but she nvr been fake & very matured compare to other nominated housemates.Hopefully she will get enuf support diz time. It was proved today that ponblm statement was not true, she fight for it.Hard times@vijaytelevision #BiggBoss2Tamil
Who will be eliminated this week? Take part in our survey: