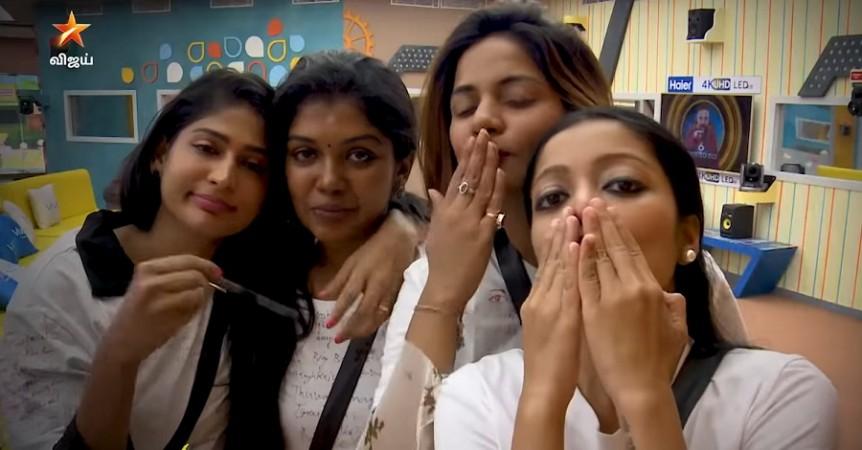 The second season of Bigg Boss Tamil 2 is into its fifteenth and final week with four contestants --Aishwarya Dutta, Riythvika, Vijayalakshmi and Janani Iyer -- in the grand finale.
Among the four, Janani Iyer was first to enter the finale after winning a nerve-racking task in which Yashika Annand, who was eliminated last week, lost the game in the last minute. And other three contestants made it to the last stage in the previous weekend.
Riythvika's entry did not come as a surprise as she has been people's favourite to win the trophy. However, viewers were expecting Yashika in the finale and strongly felt that Vijayalakshmi did not deserve a spot.
At the least, people thought that Aishwarya might be out instead of Yashika. To everybody's surprise, the latter was shown the door from Kamal Haasan-hosted show.
We, at The International Business Times, India are coming up with a poll for our readers to have their say on who should win the second season of Bigg Boss Tamil. Find the poll below:
Bigg Boss Tamil 2 was started on June 24 with the entry of 16 contestants like Mamathi Achari, Ananth Vaidyanathan, Nithya Balaji, Ramya NSK, Shariq Haasan, Ponnambalam, Vaishnavi, Mahat Raghavendra, Daniel Anne Pope, Aishwarya Dutta, Sendrayan, Mumtaz, Thadi Balaji, Yashika Aannand, Riythvika and Janani Iyer.
Vijayalakshmi is the wild-card entrant who joined the show on the 67th day. The curtains were supposed to be dropped a week ago, but the reality show was extended by a week.