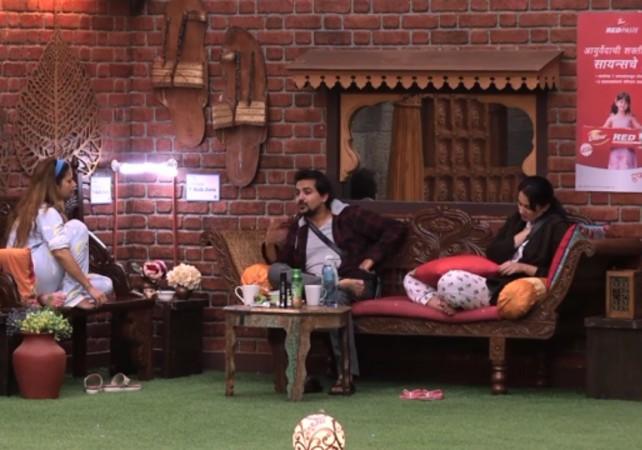 Bigg Boss Marathi S01, which began on April 15 on Colors Marathi, has turned to be quite entertaining and not just for the Marathi audience. The game is now at its peak, what with just one week remaining for the winner to be declared. Many contestants who were touted to win the show, like Usha Nadkarni and Resham Tipnis, have been evicted. So what are the remaining contestants up to on Bigg Boss Marathi? Let's take a look.
On Bigg Boss Marathi Season 1 Episode 93 on July 16, contestants took part in the school task also known as the Masti Ki Paathshala. The task involved one or two contestants to be teachers and the rest to be students, dressed in school uniform. In last night's episode, Sai Lokur and Aastad Kale were teachers while the rest, namely Pushkar Jog, Smita Gondkar, Sharmishtha Raut and Megha Dhade were school students in uniform, complete with shirt, trousers/skit, tie and ponytails.
The contestants as school students created total dhamaal and had fun, reminiscing about their school days and behaving like young school children in the Bigg Boss Vidyalaya. The teachers were also behaving like our school teachers usually are while teaching on a blackboard. Before the task, contestants celebrated the birthday of Pushkar Jog, which was on July 14.
In tonight's episode (July 17), the Bigg Boss Marathi Season 1 housemates will again take part in the Masti Ki Paathshala task, in school uniform and pigtails. But this time, the teachers will be different. Tonight, finalist Pushkar Jog, the jovial Sharmishtha Raut and the firebrand Megha Dhade will take the place of teachers in the Bigg Boss Vidyalaya. Will they be able to finish the task properly?
We feel Pushkar Jog who is rather soft-spoken may find it difficult to be a teacher for a mad bunch like Sai Lokur, Smita Gondkar, Sharmishtha Raut and the mischievous Aastad Kale. He may just give in to their demands. But not Megha Dhade! Known to be outspoken on Bigg Boss Marathi and someone who always calls a spade a spade, Megha Dhade as a teacher will make sure the school students are punished for their mischief.
In tonight's Masti Ki Paathshala, when her students Aastad Kale, Sai Lokur, Sharmishtha Raut and Smita Gondkar trouble her by hiding in the bathroom, Megha Dhade will lock them inside! She is one teacher who will not tolerate this kind of behaviour from her students.
We feel Megha Dhade will win more fans and votes after she takes her students to task in tonight's episode of Bigg Boss Marathi. She has had problems with other contestants on the show but is very popular on social media and has got new fans. In fact, when we exclusively spoke to the Bigg Boss Marathi evicted contestant Resham Tipnis, she was of the opinion that "Megha Dhade will win" as she was "playing very well and knows what exactly works and doesn't work".
What more will happen tonight on Bigg Boss Marathi Season 1? Watch this space for more.