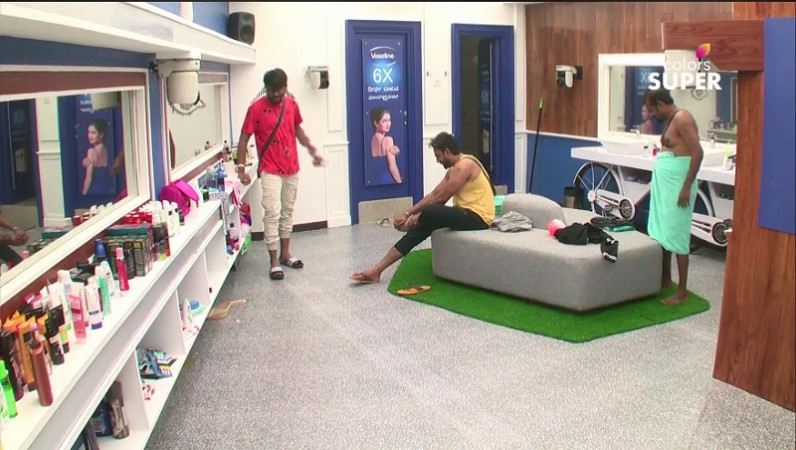 Bigg Boss Kannada 5 house was happy and peaceful in the first week, but the situation has dramatically changed as the show entered its second week. On Monday's episode, there were verbal duals among the inmates over trivial issues.
Dayal Padmanabhan yells at Jayasreenivasan
It all started over a cup of curd. Jayasreenivasan wanted a cup of curd which angered Sihi Kahi Chandra, who told him that they cannot provide it as they have it in limited quantity. He retorted in a louder tone why he was asking despite knowing the current situation.
Dayal Padmanabhan intervened and the issue just got bigger. At a point, the fight took an ugly turn when Dayal warned Jayasreenivasan and said "Nandu ondu kudlu kuda kithkolake agalla. (meaning: You cannot even touch my single hair)."
Krishi Thapanda screams in anger
Jayasreenivasan was once again on the receiving end. A few inmates asked him to take his share of fruits and Krishi Thapanda, who was praised by Sudeep for putting up a smiling face last week, lost her cool over this behaviour of some inmates. She screamed at them for becoming so narrow-minded within a week.
Tejaswini clashes with Diwakar
Tejaswini Prakash was trying to have a conversation with Megha and once again it was about food. Diwakar intervened to support Megha leaving Teju upset. They had a heated verbal exchange.
Team leader
Contestants were given a new task to choose the next captain of the house. Previous-week captain Anupama was barred from contesting and she was the observer of the task.
The inmates were asked to stand on an inclined plane and balance a ball on a hand-held platform. Shruti won the task and was declared the captain of the week, while Jayasreenivasan ended up in the second place. Nonetheless, his tough fight came as a surprise to many who consider him as a braggart.
Nomination process
Commoners like Diwakar, Meghana, Sameer Acharya and Riaz along with Krishi Thapanda, Ashita, Jagan and Dayal Padmanabhan have been nominated for this week.
Commoners unite
There is a growing discomfort among the commoners about the way celebrities are treating them. Celebrities too held separate meetings where they were seen talking about the commoners. Interestingly, Chandan's loyalty is shifting towards the common man.