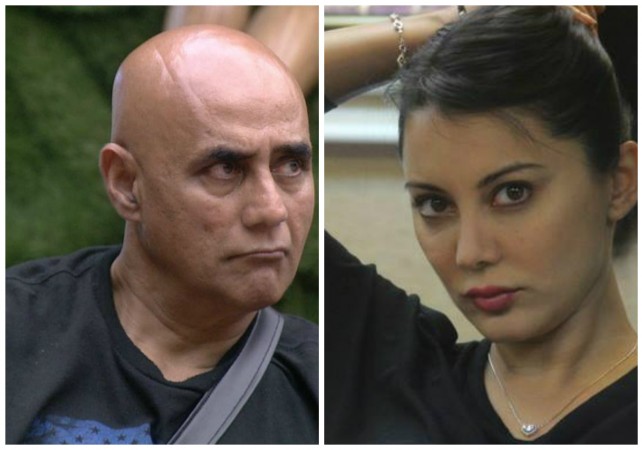 "Bigg Boss 8" took an interesting turn on the latest "Weekend ka Vaar" with Salman Khan.
What shocked the contestants was the superstar's support for Gautam Gulati. Having sidelined and cornered the contender, the housemates had earlier planned that they would break P3G (Praneet Bhatt, Puneet Issar, Pritam Singh and Gulati) in order to ward off the negativity.
And that was exactly what happened when Salman announced Issar and Minissha Lamba's elimination. The two were dropped off at the exit and were also made to sit in a special room with a TV. The two were privy to real-time footage and had ample time to understand what the rest of the house thought of them.
So, have they really been evicted from the house or is it just one of the tricks employed by the makers to bring about major shift of equations in the show? Only time will tell.
Considering Issar's reputation, the audience have expressed their disgust on social media over the dirty politics he has been playing. Speaking ill of people and maligning friends' reputations, the elderly contestant is for sure a not-so favourite among the viewers. But he gives enough content for the high-voltage reality show. Is this a good enough reason for the actor to survive this week's elimination?
Ex-contestant Deepshikha Nagpal, who has followed Issar's behaviour very closely when part of the Secret Society, said he is not a father figure at all.
"Puneet Issar is not only a very bad man, he is actually a very dirty man! He is not at all a father figure. I didn't know much about him till I came out. He has started playing dirty. Puneet thought that I am a very strong contender, manipulated people against me and got me nominated," The Times of India quoted the actress.
Lamba, on the other hand, has been criticised for playing it too safe. Not taking a stand too often, the petite actress adopted a herd mentality and likes to go with the majority.
Click here to watch the elimination live.