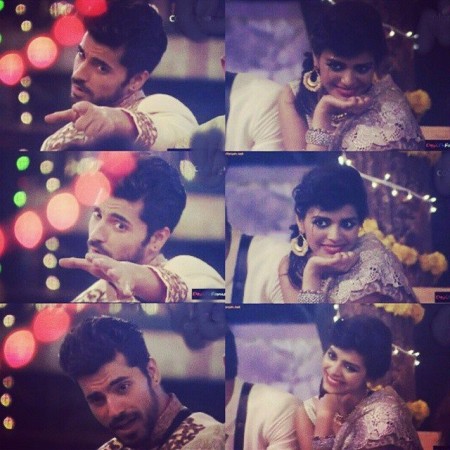 Day 99 in the "Bigg Boss 8" house took unexpected turns.
Salman Khan saved Sonali Raut from eviction and put Ajaz Khan in the mad house as one of the first challengers from the "Bigg Boss Halla Bol" series.
The superstar entered the house quietly surprising everyone. He conducted a quick general knowledge quiz with the housemates wherein Sonali appeared the brightest as she got really close to answering the capital of Uttar Pradesh.
The airport jallad and his air hostess were called on with the cargo, from which a clapperboard emerged. On the television set placed in the living area, the contestants were shown a sequence in which they were trying to put a film together.
Featuring Sonali and Upen Patel as the lead pair, with Praneet Bhatt as the villain and ever-angry father Pritam Singh, the film made the house burst into peals of laughter.
However, the "36 China Town" actor didn't look amused and kept a safe distance from Salman. He didn't contribute or react to the jokes being cracked during the superstar's short visit to the house.
The "Kick" star then cut a massive fruit cake with the members of the house informing that there would be no eviction this week. Shaking the confidence of the contestants a little, he also added that nominated contestants from the week gone by will continue to be in danger zone.
In other news, Gautam Gulati and Sonali are back to being friends. The two were once a love-struck couple but later separated after it had become difficult for the "Diya Aur Baati Hum" actor to understand Sonali's concepts of things in life. However, according to a Colors report, the two have recently been talking and seem to have discussed travel a lot.
Interestingly, the viewers want the couple to be back together and have some good things to say about the pair. Here are some of the tweets:
Preeti GautamFTW: it's weird that u haven't utilised Gautam & Sonali's joint popularity properly! Give them good duo-tasks together!
Manasa: please arrange a date for gautam and sonali we viewers will b happy and also will increase ur trp
Mahnoor Fazil: because why u dont show scenes of gaunali their friendship is tooo cute whyy bb we want gaunali
tamanna j: i think we should start trend " we want gaunali back"