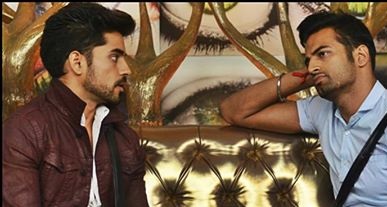 As the high-voltage show is nearing its end, the mayhem inside the "Bigg Boss 8" house is exponentially increasing.
While Gautam Gulati and Upen Patel's tiff, which could have snowballed into a tussle if it was left unattended, appeared genuine; Ali Quli Mirza's extreme war of words with Praneet Bhatt came across as fake as the two were later spotted cracking jokes.
The luxury budget task 'Kabhi Haan Kabhi Na' saw the fun side of the contestants, but when it came to points, the losing team took mighty offense accusing moderator Karishma Tanna of partiality.
Upen, who is now eligible for anger management classes, later yanks the file containing rules of the task given to the contestants by Bigg Boss and picks up a fight with Dimpy Mahajan. The "36 China Town" actor also refused to take orders from Captain Dimpy saying he isn't interested in volunteering for any kind of household work.
Sonali Raut, who seldom triggers controversy, stirred up a big fight about her stolen cigarettes. Praneet, who also needs to tag along with Upen for temper control classes, lost his cool blaming Ali for all of it. The singer, who swore on his mother saying he never flicked any of the cigarettes from Sonali's cabinet, later flung a knife at the "Xpose" actress without realising the repercussions.
In other news, discussing the nomination procedure Pritam Singh, Sonali and Karishma came to the conclusion that Gautam should have been pushed into the danger zone this week. The model-turned-actress, who picked Karishma's name for nomination, smoothly put the blame on the RJ saying he readily agreed to nominate her and didn't think twice.
Karishma, who was visibly upset, criticised Pritam's decision when the latter said that Sonali would never vote Gautam for elimination, since she now knows that her chances of being friends with the suave actor is more.
However, the "BB8" viewers didn't appreciate Upen's sudden and unpredictable bouts of rage lasting from few minutes to hours. And during one such episode he ended up threatening Gautam that he would destroy his face and kill him. While some of them called him 'mentally retarded', others joked he needs a 'tranquilizer'. Here are some of the tweets:
AshwinSarcasticFerns: Wanna know the perfect example of a mentally retarded cribby person? Watch BiggBoss 8 contestant Upen Patel!
The Name is DK: #BB8 shud use Tranquilizer to calm Upen patel Down..!! he is behaving like a GORILLA!! Like him but zyaada ho gaya..!
TanU: #upenpatel u have shit face and soul. Hate u for lifetime. #BigBoss8 #BB8
Jhansi: upen patel needs urgent psychiatric help...behaving weird..and as usual gautam rocks....