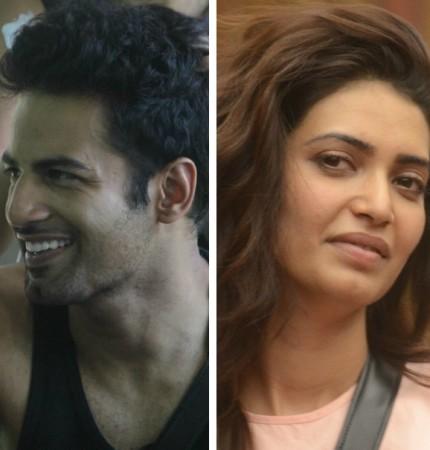 Day 94 in "Bigg Boss 8" was one of confrontations and bitter arguments.
As part of luxury budget task, housemates were made to prove a bunch of predictions (made by Bigg Boss) wrong.
While Karishma Tanna wilfully danced with Gautam Gulati, Upen Patel spent hours in the kitchen preparing meals. Collectively, the inmates pulled an all-nighter and were successful in winning the challenge thrown at them.
Unfortunately, Ali Quli Mirza, who was entrusted with a secret task, did not fare well. As a result of which, some points will be deducted from their budget.
In other news that put viewers in deep shock, Tanna and Patel were spotted sharing the same blanket on the latter's bed. As per the livefeed information shared on social media, the two were apparently onto something under the sheets.
Here are some of the tweets:
Ayesha Sarwar: Upen Karishma tu meri behan hy. Now behan k sath Kambal mein fambal... Tho tho thoooo #BB8
Love is Life: #BB8 finally Upen got Karishma in his bed & they were under the blanket & after some times she left his bed & went to her own bed
Navajeeth Bangera: Omg I just cannot believe what I saw Karishma and upen inside the blanket and doing something #GoGautam #BB8
Salman Ki Dimple: @amitr540 desperate upen got karishma under the blanket with him to do the fumble #livefeed last nite ! Despos #BB8
This comes as a surprise because a few days ago, Tanna broke into tears when Salman Khan made some comments on her and Pritam Singh's friendship. Although made in jest, the "Grand Masti" actress said she didn't find the joke funny and it was too much for her to take.
This sparked a controversy as the superstar walked out of the sets saying she wasn't fit to be in the industry if she can't handle jokes on herself, adding that link-up rumours are very common.
Additionally, it was widely reported that the actress is set to enter wedlock with long-time boyfriend Rushabh Choksi soon after she quits the show. Choksi owns the Escobar Club in Bandra, Mumbai and both their families have given a nod to their relationship as they both belong to the same cultural background.
However, what's more interesting is, in the day 95 prelude, Patel gossips with Tanna about how Sonali Raut tries to hit on him for content, adding that she does everything for the camera. So, how would the "36 China Town" actor describe the situation he got into with Tanna?