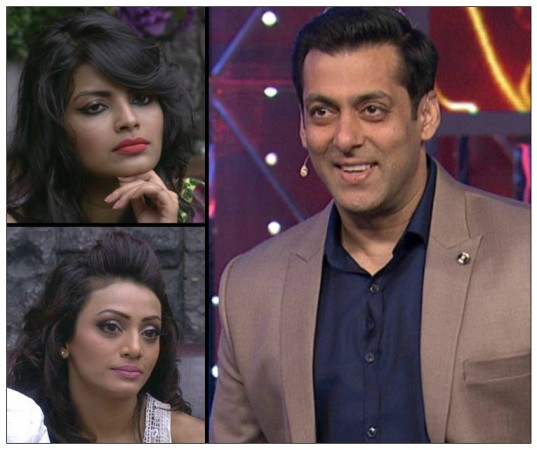 "Weekend ka Vaar" on "Bigg Boss 8" with Salman Khan was an entertaining one for sure.
Most of it was spent pulling Sonali Raut's leg for not completing the tasks given to her by captain Ali Quli Mirza. Aping her style of walking with head swaying from one side to another, Salman quipped that instead of sweeping the floor with a broom she can just lie down and clean it with her tresses.
While the housemates had a good laugh, Gautam Gulati was not very happy with the way everyone blamed Raut for not doing her work properly. The host, who was in the mood for some fun, said it was only fair for Gulati to be shy and blush all the way.
However, Pritam Singh, who is known for her mimicking skills, entertained the audience with his acts. Pritam, Gulati, and Sushant Divgikar were announced safe, whereas Minissha Lamba, Soni Singh, Diandra Soares and Raut are still in the danger zone.
After congratulating Mirza for being elected as the captain twice in a row, Salman called Soares to the confession room. Calling her game play an honest one, he said she shouldn't be bothered about what's going on in the house and that she's on her own now.
The episode took an interesting turn when a caller shared her opinion on Soni and Upen Patel's relationship. She said they might share a pious brother-sister bonding, but on-screen it's being translated as something else.
Miffed with the view, Soni explained since she cannot change the way people think, at best she can only assure that Patel is like her real brother. The "36 China Town" actor too was irked by the viewer's statement and said it was a little disgusting that she should think in a different direction altogether.