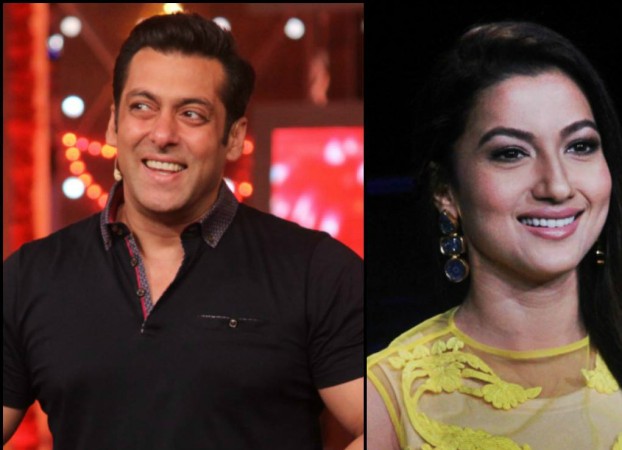 Salman Khan was having some harmless fun at "Bigg Boss 8" Weekend ka Vaar, when he took a dig at archrival Shah Rukh Khan.
Recent reports claimed that after Salman's invite to the high-voltage reality show, Shah Rukh responded by acknowledging the actor's kindness and said he would definitely be on the show to promote "Happy New Year", if the marketing team decides so.
The "Kick" actor took a quiz 'Which Khan are you?' and said he kept his promise of promoting Shah Rukh Khan's 'Happy New Year' on the show. The result of the quiz - which was Shah Rukh - had everyone in splits, while Salman imitated SRK's signature pose.
Moving on to the contestants, the superstar expressed his disappointment over the Sonali Raut-Diandra Soares tiff. He said when Karishma Tanna was humiliated by Gautam Gulati's verbal abuse, everyone took a stand. But when Raut was pushed and shoved around during a task, no one came forward to support her except for a few.
Tanna and Soares, who thought Raut was pretending and there was absolutely no need for her to create a scene, was heavily criticised by Salman, whereas Praneet Bhatt, Pritam Singh and Gulati were applauded for their genuine take on the matter.
However, the actor announced Soares and Singh safe, after which he brought in a twist for the contestants as well as the viewers. "Bigg Boss 7" contestant Gauhar Khan replaced Bigg Boss and gave orders to the housemates.
Wild card entrant Ali Quli Mirza was asked to bring the handcuffs from the store room, after which the inmates were quickly asked to slip them on.
While the day ended with a surprise, in the prelude Gauhar is seen making Mirza and Sushant Divgikar walk on one foot to the pool, while Gulati was made to sing to one of the housemates.