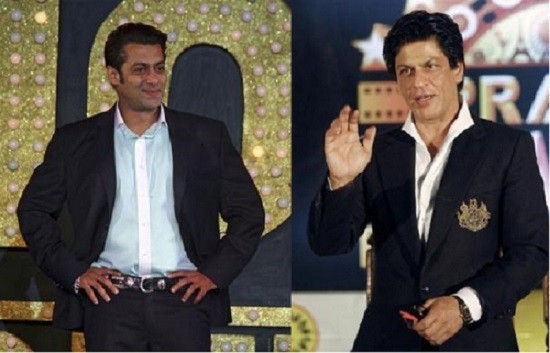 Amid all the brouhaha over the host of controversial reality show "Bigg Boss 8", Salman Khan reportedly opined that Shah Rukh Khan would make a better host for the show.
During a promotional event for his upcoming action movie "Kick", Salman, according to reports, said he might or might not host the show.
"No comments. I might or might not," Press Trust of India quoted the actor.
However, he made quite a candid statement by saying that his arch rival Shah Rukh would make for a good host. "If I don't host, then I think Shah Rukh Khan will be a good host," he added.
From being the best of friends to avoiding each other at award shows and parties, looks like the two superstars have finally shed their inhibitions and are warming up to each other. The recent iftar party hug was a kind gesture and came as a relief for the fans.
Reality TV, in the name of actual occurrences, dishes out spicy episodes for the controversy-hungry viewer to mull on. And "Bigg Boss" is no different. Last season witnessed a major stir when Salman's biased opinions of contestants Tanishaa Mukherji and Armaan Kohli drew a lot of flak. It also triggered the #UnfairSalman trend on Twitter to which he reacted: "seriously if u don't like plz don't watch, even if 1 family member does not like it the rest shld respect that n change the channel."
While Salman will be missed if he opts out of the show, Shah Rukh, having hosted quiz shows such as "Kaun Banega Crorepati 3" ("Who Wants to Be a Millionaire?"), "Kya Aap Paanchvi Pass Se Tez Hain?" ("Are You Smarter Than a 5th Grader?") and game show "Zor Ka Jhatka: Total Wipeout" ("Wipeout"), will be a good replacement.
However, with Farah Khan's "Happy New Year" releasing on 23 October 2014, it is highly unlikely that SRK would be able to allocate his dates for the show.