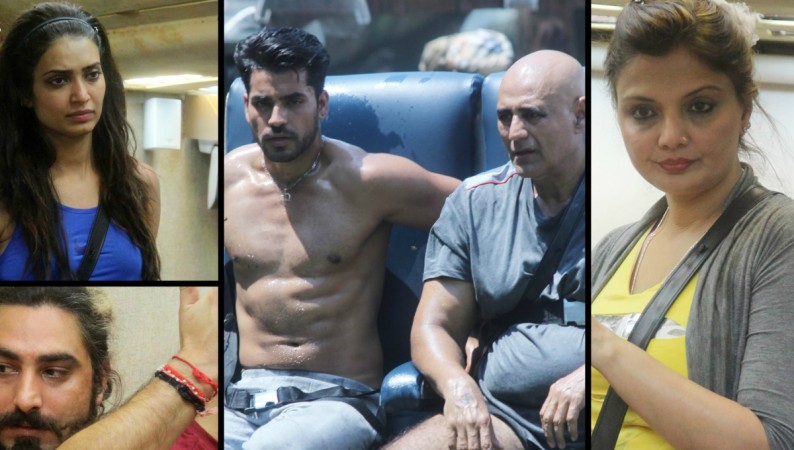 On day 8, "Bigg Boss 8" took a different turn. After introducing the remaining members of the Secret Society – Deepshika Nagpal and RJ Preetam – and the house, the inmates were given a task, which tested their patience.
Since Nagpal's performance as one of the members of SS impressed Bigg Boss, she was given the liberty to pick 6 people for her team and the rest would automatically go to RJ Preetam's pack.
Karishma Tanna, Minissha Lamba, Diandra Soares, Upen Patel, Arya Babbar, Sushant Divgikar are now in Nagpal's team. Whereas, Gautam Gulati, Puneet Issar, Praneet Bhat, Natasha Stankovic, Sukirti Kandpal and Soni Singh are with Preetam.
The task was to remain seated in seats placed outside the airplane while the opponent team irritates them.
From bugs and twigs, to chilli powder and detergent bar, Nagpal's team brought the opponent team to a breaking point. While Stankovic broke into tears, Gulati hurled abuses at Tanna.
Everyone was patiently and diligently doing their task, until Tanna began applying chilli powder paste onto the bodies of inmates clenching onto their seats. It took an ugly turn when, Gulati, lost his cool and yelled at Tanna.
His inappropriate behaviour costs him his teammates support as they abandoned him for abusing a woman and lectured him on how to improve his social skills.
Tanna, on the other hand, accused Issar of his disloyalty and asked him why he failed to support her. The senior contestant then threatened Gulati and said had it not been a show he would have killed him. Apologetic and tear-eyed Gulati realised his mistake and was seen group hugging Tanna and Issar.
Dragging the drama further, Tanna questioned Gulati's rude behaviour again on the dining table. While he apologized and said he was genuinely sorry for what he had said, Tanna said she could have easily slapped him.