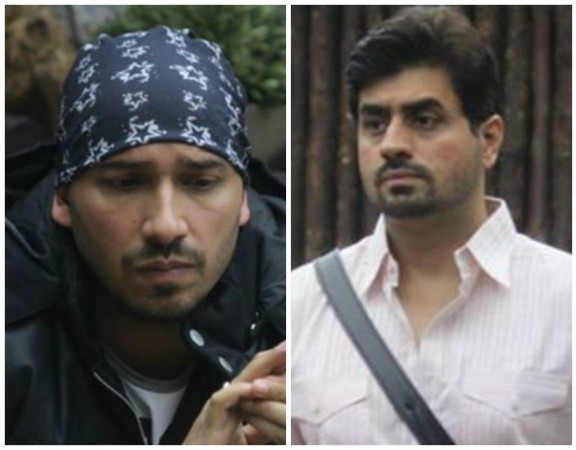 Day 37 in "Bigg Boss 8" was one of confrontations and revelations.
Housemates were relieved of Ali Quli Mirza's tyranny after his inappropriate and lecherous advances towards Sonali Raut led to him being robbed of his special rights as the captain. Bigg Boss listened to both sides of the story and labeled the episode as indecent.
Not just that, Mirza has now been nominated for this week's elimination and has been denied rights to captaincy in future. Disheartened and disappointed, Mirza makes peace with Gautam Gulati. He confessed his fondness for the actor, adding that he never meant to create a scene. Gulati appreciated the conversation and said it was all in the past.
Upen Patel, who has been miffed since the day his relationship with Soni Singh was heavily scrutinised by a viewer, opened up on the matter. He said it would be really nice if the contestants said what they had to on his face and not gossip behind his back. He also thought the whole Mirza-Raut affair was being unnecessarily dragged and that it should be stopped.
Pritam Singh then revealed to the "36 China Town" actor that when Mirza entered the house, he made fun of his friendship with Diandra Soares and had remarked that the two have been having loads of "fun" in the house. Taking the comment in the negative way, Patel confronted Mirza and told him keep such thinking at bay.
Meanwhile, when Karishma Tanna and Praneet Bhatt were taking a stroll in the garden, the phone (placed in a booth at the porch) rang. A thrilled Tanna ran towards it but on receiving the call she found herself in the middle of a task where she would have to convince the housemates to take up weird challenges and also finish them.
While Bhatt had to bleach his eyebrows, Sushant Divgikar and Raut were asked to drink jugs full of bad-tasting concoctions. Last leg of her task was difficult as the housemates had to give away 50 percent of their ration. Later Puneet Issar was nominated for the phone booth task, but unfortunately failed to convince Soares and Tanna to give up on their makeup supplies.