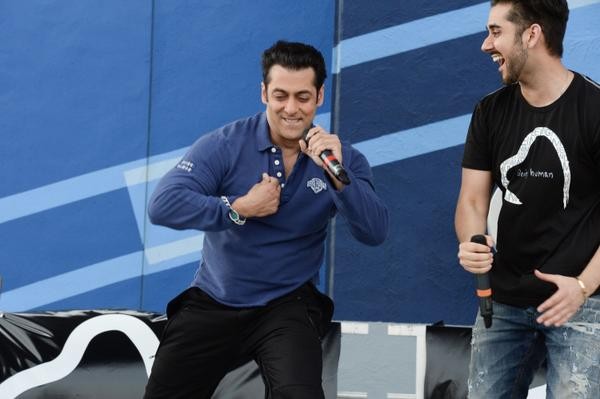 With sizzling performances and some stand-up comedy, Salman Khan's "Bigg Boss 8" pilot episode was an entertainer from start to finish.
But, the interiors of the mad house could be a major gripe. From the looks of it, the contestants will have reclining airplane chairs for beds and will be made to spend most of their time in the crashed plane. How well will the inmates hold up? Only time will tell.
Introducing the names of the official contestants one by one, Khan also mentioned the presence of a three-member Secret Society. According to Bollywood Life, Deepshikha Nagpal, Puneet Issar and RJ Preetam have been chosen as its members and they "will have the authority inside the house of horrors. Their wish will be other contestant's commands. Plus contestants won't be able to nominate the three members of secret society. Basically, the other 12 contestants will be like the puppets of Secret Society."
Meanwhile, here's the interesting list of inmates: Minisha Lamba, Upen Patel, Sukirti Kandpal, Gautam Gulati, Praneet Bhat, Natasha Stankovic, Arya Babbar, Sushant Divgikar, Karishma Tanna, Soni Singh, Diandra Soares, and Sonali Raut.
Dressed as a pilot, Khan looked extremely dishy and was seen having fun with the contestants already. Revealing twists every minute and keeping the curiosity alive, the actor made some of the contestants wait at the departure hall.
Meanwhile, Lamba, who has had a dry run at Box Office ever since she set foot in Bollywood, danced to "Pyaar ki Ek Kahani" from her film "Honeymoon Travels Pvt Ltd." Patel performed on "Devil Mera Yaar" from "Kick".
Interestingly, when his bag was scanned for 'security' check, before he entered the mad house, he was found guilty of carrying women's lingerie. Poking fun at the model-turned-actor, Elli Avram (last year's contestant) said he is a ladies' man and wants to be surrounded by good-looking females all the time. Another inmate, Singh, whose vamp act impressed Khan, was advised by the actor to display some of it during her stay at the house.
Praising the Siberian beauty Stankovic, the host even took a selfie with her. Meanwhile Babbar, whose debut film tanked without a trace, made a controversial statement right before heading for the house. He reportedly said he would miss sex and pizza the most.
Sunil Grover aka Gutthi from "Comedy Nights with Kapil" increased the fun quotient with his humour and made the audience laugh. Khan, Grover and Soares entertained with their 'towel' dance from "Mujhse Shaadi Karoge".
To air from Monday at 9pm, the show will unravel a few more secrets along the way.