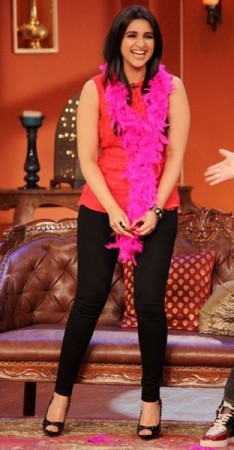 Parineeti Chopra who played a prank on "Bigg Boss 8" contestant Ali Quli Mirza seemed to have back fired on her.
On Sunday 2 November, when Chopra and her team of "Kill Dil" including Ranveer Singh, Ali Zafar and Govinda, were in Salman Khan's show to promote their film, the actress got a little upset with Mirza for having touched her inappropriately. Following this, the entire team of "Kill Dil" made a hasty exit from the house. Although, they revealed that it was a prank on the singer, the incident didn't seem to go well with a section of viewers.
Social media was flooded with criticism at both the show and at Chopra for making a joke out of an issue as grave as sexual harassment, especially when Mirza has already been accused of sexually harassing co-contestant Sonali Raut a few days prior to the prank. Chopra's participation in the prank has let her fans down more considering that the actress has always raised her voice for violence against women.
The actress has now clarified her stance and mentioned that it was the team of the reality show who planned the act. She even went on the say that every reality show is scripted and actors need to execute it accordingly. Moreover, she knows Mirza personally and hence thought of playing it on him rather than anyone else.
"The prank that the three of us played on Mirza was an idea given to us by the creative team of Bigg Boss. We, as actors, simply executed it, trusting their judgement. The intention was never to hurt sentiments or trivialise the matter of inappropriate behaviour towards women." Chopra to Hindustan Times.
However, the "Daawat-e-Ishq" actress apologised to those who were disappointed by the prank, although she maintained that it was just a prank and shouldn't be taken seriously.
"We apologise to those who got hurt, but maintain that this was a prank, and should be not be taken so seriously. On a lighter note, we are big fans of the show and watch each and every episode. At the end of the day, we all sent pizzas to the contestants to make it up to them." the actress added.