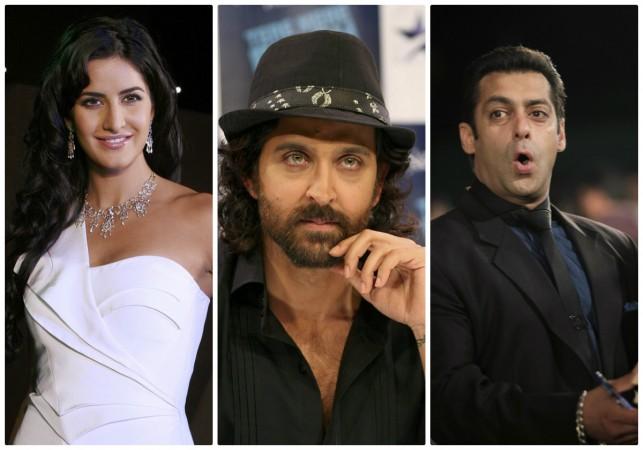 While Hrithik Roshan was in the "Bigg Boss 8" house in Salman Khan's absence to promote "Bang Bang", Katrina Kaif skipped it.
Just like his B-Town friends, Roshan gave bang bang dares to the "Bigg Boss" inmates as well but only after pushing the difficulty level higher.
While Minissha Lamba was made to walk on broken pieces of glass, arch rivals Gautam Gulati and Karishma Tanna were reportedly made to dance to romantic songs.
"Hrithik's dare to Gautam and Karishma was the most entertaining of the lot. They both were termed the Hrithik and Katrina of the house, and were asked to perform on Hrithik's latest superhit title track from 'Bang Bang'," the Colors channel quoted its inside sources.
While the twist was taken sportingly by the contestants, the star's fans were surprised as the actor had earlier gone against promoting the film on reality shows. What was more interesting was the absence of Khan and his ex-girlfriend Kaif on the show.
"The broadcasters of the show had initially approached the film's producers but they were turned down. This time, the makers themselves initiated the talk," Mumbai Mirror quoted an exclusive source.
Now, it is known that Roshan and Khan share a love-hate relationship. The latter, who goaded the dishy actor into fitness and body-building took an oblique dig on the show two weeks ago and said Roshan never taught him anything in return.
Interestingly, a few years ago on a popular chat show, the "Bang Bang" star had said that the superstar suffers from a 'victim' syndrome, which leads him to believe that he is being cornered by people.
However, the reason behind Kaif's disappearance has been easy to speculate. Ever since the Khan-Kaif split, the latter has been wary of her association with the actor. But, just for old time's sake, the gorgeous actress is invited for important events and parties at the Khan house.