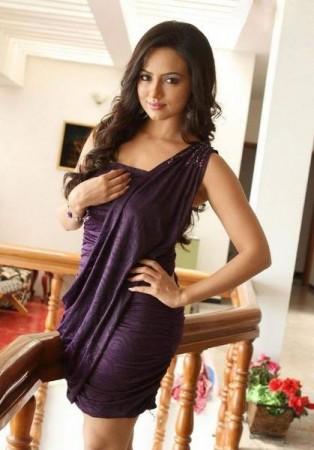 Evicted "Bigg Boss Halla Bol" challenger Sana Khan has said that the Karishma Tanna-Upen Patel equation isn't genuine.
While UpMa (as rechristened by hostess Farah Khan) is busy indulging in some harmless PDA, housemates were heard discussing how this whole love affair is coming across as 'fake' and at best a strategy to survive the game show.
"How can they fall in love all of a sudden after his re-entry?" Sana asks. "There is no logic. A girl, who is in a serious relationship for two years, is kissing and cuddling a contestant without breaking up with her partner... it doesn't look genuine at all. They walk hand-in-hand the entire day as if one of them is going to get lost in the house," Rediff quoted Sana as saying.
Gautam Gulati, who usually never meddles in others' matters, was heard discussing the KT-Upen romance with Pritam Singh. He said how her claiming to have a boyfriend and then going ahead with the "36 China Town" actor is only harming her own image on television.
Sambhavna Seth and Mahek Chahal however were open in their opinions of the brewing romance. They both said that Karishma not reciprocating to Upen's advances is making the whole deal appear fake.
Sana, whose 2-week-long stay in the "Bigg Boss 8" house has been nothing short of entertaining, said every housemate has a strategy adding that they are playing their cards really well. "I didn't do halla (make a noise) like the other contestants. I think I was miscast for the show's extended version. I could not create any drama, as I didn't have an ex-husband (contestants Dimpy and Rahul Mahajan have separated) or a romantic angle (Karishma Tanna-Upen Patel are being romantically linked)," she said.
The show is now left with 8 contestants: Gautam Gulati, Karishma Tanna, Pritam Singh, Dimpy Mahajan, Ali Quli Mirza, Sambhavna Seth, Mahek Chahal, Rahul Mahajan.