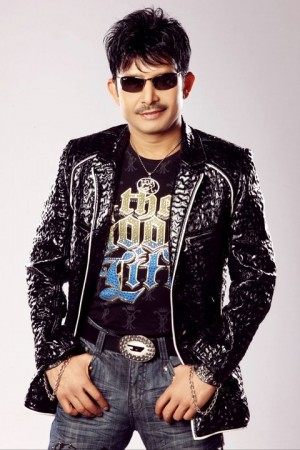 Actor, film critic and now trade expert Kamaal Rashid Khan aka KRK has predicted Arya Babbar's elimination from "Bigg Boss 8" this week.
"So my friend Arya Babbar will be out of #BiggBoss8 this week because Me Me Me no.1 critic KRK says so," he tweeted.
Known for his fiercely opinionated comments and sarcastic digs, KRK has often bitten off more than he could chew. After getting into a Twitter spat with Kapil Sharma, he recently managed to miff Sonakshi Sinha.
Very strangely though, megastar Amitabh Bachchan said at the launch of the "Deshdrohi" actor's website launch that he has a malice-free mind and speaks from the heart.
"KRK speaks from his heart. He has written what he felt about the movie. Everyone has their own view and they can express the way they want," Deccan Chronicle quoted the senior actor.
However, having been on Season 3 of the high-voltage reality show earlier, it was obvious for him to take an interest in the process of elimination. Calling Babbar his 'good friend', the 'no.1 critic' strangely never gave any reason for it.
Babbar, who has been under the scanner for a while now, was reprimanded by the then house captain Upen Patel for overreacting. The former was hurt after Puneet Issar held him by the neck and yanked him onto the ground in order to accomplish the luxury budget task at hand.
Predictably, Issar was shown the doors, but is given a chance to redeem himself. Apart from his buddies Gautam Gulati, Pritam Singh and Praneet Bhatt, the rest of the house wasn't too please with the decision.
Babbar, who was heartbroken at the unfair comeback, made a scene and locked horns with the senior member. Making personal remarks and using derogatory words, Babbar's argument with Issar took a nasty turn when his friends too didn't lend him any support.
Well, the fate of KRK's prediction remains to be seen but if Babbar stands evicted this week, then the viewers sure have their reasons in place.