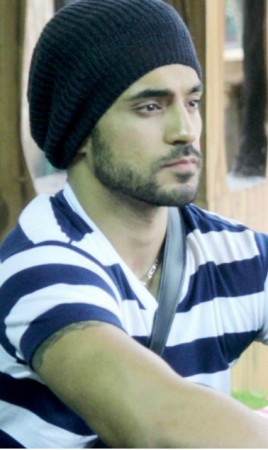 Day 19 in the "Bigg Boss 8" house was a fun-filled one.
"Bang Bang" star Hrithik Roshan surprised the housemates with his unannounced entry from the nomination room.
During his brief visit to the house, the dishy actor gave "Bang Bang" dares to the contestants. While Deepshikha Nagpal distorted a rod with her neck, Minissha Lamba overcame her fear of walking bare-feet on broken pieces of glass.
Interestingly, Roshan made Gautam Gulati and Karishma Tanna dance to "Bang Bang" title track. Teaching them the steps, the actor convinced Tanna to accomplish the task given to her.
Surprising everyone, the two hugged each other. Does this mean that they have buried the hatchet and are ready to move on? Only time will tell.
As part of his dares, the actor also poked the inmates for a few honest confessions. Calling Praneet Bhatt a "Dal Badlu" (someone who changes preferences in no time), Diandra Soares made her hatred for him evident. Minissha Lamba confessed that Aarya Babbar was more of a "Thaali ka Baingan" (someone who cannot be trusted and changes sides depending on the situation) in the house.
This confession left Babbar surprised and he revealed that before entering the show, the actress had made calls to ensure that they would remain friends on the show and support each other in the house. But, Lamba was caught sharing an entirely different side of the story with Nagpal.
A few days ago, she told Nagpal that Babbar apparently wanted to indulge in a fake romance with her in order to survive the show and trigger TRPs.
Puneet Issar, who considers Tanna as his daughter, was seen criticising her food management skills. On the other hand, Gulati was attacked again for using milk for his protein shake. Are the inmates targeting him on purpose? Is he an easy target? While that remains to be answered, the prelude to day 20's episode shows Soni Singh lashing out at Gulati.