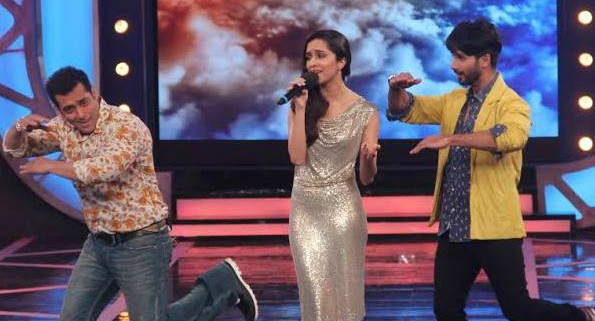 On day 7 of "Bigg Boss 8" in "Weekend ka Vaar" with Salman Khan, "Haider" stars Shahid and Shraddha Kapoor promoted their upcoming revenge drama.
The stars boarded flight "BB08" and gave interesting tasks to the passengers. Gautam Gulati was asked to offer a glass of bitter gourd juice to his most-hated contestant. Drinking it bottoms up, Sukirti Kandpal proved she was one of the strongest contenders.
Diandra Soares was given a bunch of lipsticks with which she had to unleash her creativity on one of the troublesome co-passengers. Picking Puneet Issar, the crazy-haired model drew an interesting pattern on his face and head.
Serbian beauty Natasa Stankovic made Karishma Tanna eat 'mirchi laddoo' (Sweet made of chilli powder). Tanna was brave enough to finish it off without throwing tantrums.
Meanwhile, the actors of "Haider" talked about their film with Salman Khan. While Shahid taught a few dance steps to the superstar, Shraddha crooned for the audience.
Next up, evicted contestant Sonali Raut, who was shown an audio visual of Kandpal and Soni Singh gossiping about the "Xpose" actress, said Gulati needs to behave well in order to survive in the house.
Labeling him as a footage artiste, Khan requested Gulati to be a little gentle towards the fellow contestants.
Like promised, the makers have peppered every episode with mind boggling twists. And so, Khan handed Raut a grenade (named as 'Big Bomb'), which allowed her to directly nominate Kandpal for the danger zone.
Khan, before ending "Weekend ka Vaar", informed the remaining members of the Secret Society – Deepshikha Nagpal, RJ Preetam – to pack their bags as they will soon board the plane.
On day 8, the contestants will be moved to the actual "Bigg Boss 8" house, but, only after completing of a difficult task in which Gulati loses his temper and triggers a fight with Tanna.