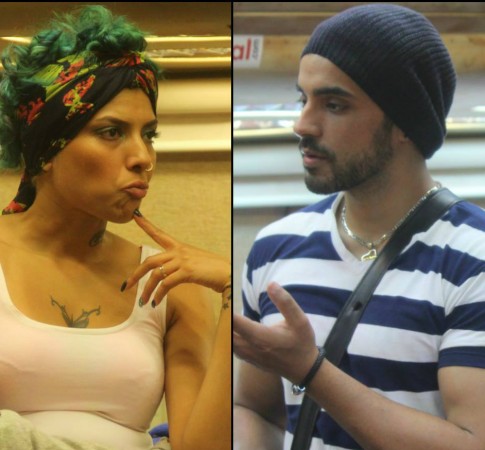 Day 60 in "Bigg Boss 8" was one of the reunions.
After Gautam Gulati picked Pritam Singh as eligible for punishment, the latter was ordered to segregate cereal grains – wheat and rice. Looking at his dedication, the contestant was relieved of the grueling task after a while.
Thrilled and elated, Praneet Bhatt, Puneet Issar, Gulati and Singh hugged it out and put their differences aside. Meanwhile, Gulati didn't waste much time to hit on Diandra Soares. From requesting her to give him a massage and going on a date by the pool side, the captain tried every trick from the love book. And, from the looks of it, he has emerged successful in getting the model to oblige.
However, the harmless flirtation didn't stop there. Soares blushed at Gulati's praises, saying the equation seemed a little too one-sided and that she too would want some return favours. The two were spotted exchanging sweet nothings at the corridor and were hanging out too often than expected. Gulati even went on to say that he would hug and kiss her, if needed.
While the contestants are left in a state of shock with the news of this reunion, viewers too haven't taken this rekindled friendship too well. Calling the 'lotion leela' irksome, fans of the high-voltage reality show have failed to approve this sudden change of heart on both the sides.
Interestingly, Soares peeled away from Gulati but the latter has always maintained a soft spot for her. He even went on to ask if she would be interested in getting in touch after the show gets over. Calling it a too-quick-to-decide situation, Soares said the game isn't over yet and that 'anything can happen'.
Here are some of the tweets posted by the viewers:
Priyanka Sharma: @ColorsTV @BiggBoss @diandrasoares13 there is no romance so cut this crap! He is being friendly like he is with other girls.
Shobhna Maurya: @ColorsTV @diandrasoares13 Gautam pls stop being friendly with D... It doesn't look good at all.
Sarah Khan: @ColorsTV @diandrasoares13 Arghhhh #Gautam Plz sont do this to us!! She is not worth ur friendship at all!! Stay away,sum1 tel him plzzzzz.
Yours Truly: @BiggBoss @diandrasoares13 @SonaliRaut6 ewwwww! I hope they both fight soon. Unbearable 2 watch their lotion leela! #BB8