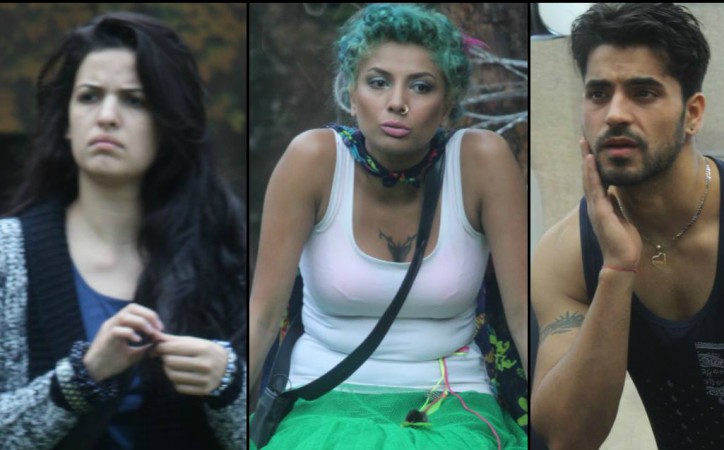 On the fourth day of reality show "Bigg Boss 8" things began heating up a little as the inmates kick-started controversial conversations among themselves. And of course, the nomination night added fuel to fire.
The main area of conflict remains the kitchen, and spicy gossip happens to be Gautam Gulati and Diandra Soares' excessive PDA.
While Upen Patel poked fun and left it at that, Karishma Tanna and Soni Singh had a conversation at length. Calling it unreal, both the celebs thought the apparent romance between Soares and Gulati is just a passing phase.
Kissing and hugging at the breakfast table, the soon-to-be couple also caught the attention of the Secret Society. Deepshikha Nagpal was happy at the development but at the same time wished that they continue their 'special' friendship even after the show gets over.
While the reality show might be about having fun, performing tasks and living with other contestants under the same roof, it also comes with several strict rules and regulations. Speaking in Hindi and not sleeping during daytime are two stringent rules, which cannot be broken. However, Gulati and Sonali Raut are the two 'yatris' (passengers) who have failed to abide by it, which landed them a punishment of sorts. They were made to stand on the airplane wings by SS and were ordered not to talk until the next task.
The nomination round turned out to be a tough one and the contestants had to reveal the names and burn the photos of those they wish to vote out. Since a major rift hasn't happened and shift in equations are yet to come, the reasons given were mostly based on the interaction the inmates have had with each other.
But, the results were quite devastating. Natasha Stankovic (6 votes) and Sukirti Kandpal (5 votes) were pushed to the danger zone. Meanwhile, Gulati and Raut were nominated by SS. They opined that the behavior of the two contestants has been inappropriate in the first week.