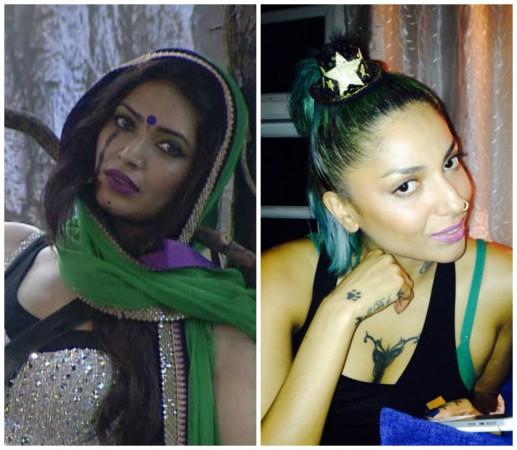 Day 46 in the "Bigg Boss 8" was owned by Diandra Soares.
The contestants woke up to a shocking revelation – Puneet Issar's return. Not being able to comprehend the event, some went ahead and criticised Bigg Boss' decision. Calling him unfair and partial, a disheartened Aarya Babbar requested some alone time at the confession room.
Not very surprisingly, Diandra and Karishma Tanna were caught attacking Issar the most. They opined that he was 'acting' and his fake apologies shown on the AV have not been accepted yet. Meanwhile, Praneet Bhatt, Pritam Singh and Gautam Gulati were happy to have their 'group' member back.
Later in the day, Diandra and Pritam, who were chosen by the former captain Upen Patel, stood for the election, in which the supermodel beat the RJ to become the new boss of the house. As expected, after winning the race to captaincy by a majority vote, Diandra began picking on Gulati for sleeping during daytime. A miffed Gulati said in his defense that he was the only one abiding by the house rules.
The crazy-haired woman just gave fans of the high-voltage reality show another reason to hate her. Interestingly, this time well-known director Kunal Kohli also tweeted his disgust over Diandra and Karishma's antics.
"@BeingSalmanKhan 1st time #BigBoss has witches on the show #diandra & #KarishmaTanna worst participants of the show ever," he wrote.
The viewers too agreed with the director's opinion, and wrote:
Mohit Aurora: @kunalkohli @BeingSalmanKhan totally agree!! u forgot arya and upen# always sitting behind these witches... not doin any work what man shud.
Dee: @kunalkohli @BeingSalmanKhan AGREE! Frankly, I don't feel like watching #BB8 because of those 2 witches #Tanna #Diandra - Kick them out pls!
Soniya: @kunalkohli @BeingSalmanKhan disaster seriously!! Evict them & bring strong contestants like previous seasons had!!