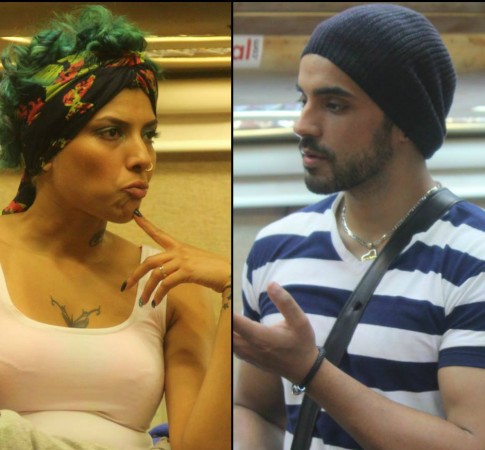 The Gautam Gulati-Diandra Soares romance took an unexpected turn when the supermodel locked lips with her man in their co-contestants' presence.
Day 73 in the "Bigg Boss 8" house witnessed inmates in all of their past glory -- blaming and accusing Gautam unnecessarily, and picking fights for no rhyme or reason. As part of this week's luxury budget task, the "Diya Aur Baati Hum" actor was given a secret challenge wherein he was to steal from the museum while posing as a guard.
During wee hours, as Puneet Issar left him in-charge of the security, he began his task but got caught. Later, the thieves blamed him for doing it all by himself and should have sought their help. Meanwhile, Diandra, who learnt of Gautam's secret challenge, condemned him for lying to her. Crying and weeping all along, the supermodel stomped to the restroom area where friend Karishma Tanna tried getting information out of her.
A very disappointed Diandra, then narrated how Gautam discussed their relationship with Pritam Singh. However, what ticked her off was him labeling her as 'carefree'. A very determined Diandra then rushed to living area and kissed Gautam while the housemates watched.
Stunned and shocked, the actor realised his mistake and walked up to her to apologise. In no mood to listen to her man, Diandra ignored Gautam until he took her to a corner to say sorry for his misdeeds and inappropriate words. Slapping him a couple of times, she expressed her anger saying he wasn't worthy of anyone's trust. The misunderstandings, however, were then cleared and for the umpteenth time, Diandra dragged him to the restroom area for some intimate time.
In other news, Ptitam, Praneet Bhatt and Sonali Raut were busy dissecting their relationship. While the RJ and panditji opined that Diandra is just a cog in the wheel for Gautam, Sonali said that the former is seriously involved in this 'special' relationship.