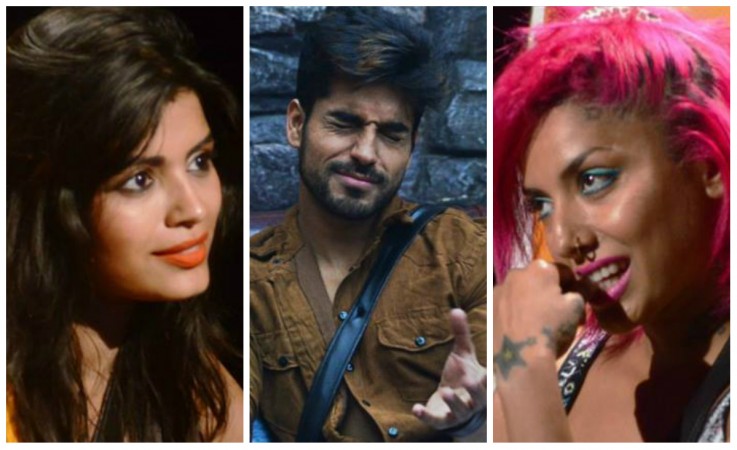 While day 71 witnessed betrayal and some solid friendships turn sour in the "Bigg Boss 8" house, the night before saw Diandra Soares clearing a few things out with Gautam Gulati.
It is obvious that Diandra can't stand the sight of co-contestant Sonali Raut, and very strangely the latter touched Gautam inappropriately, which made his girl seemingly very insecure.
The supermodel took him to the washroom area to ask if he was serious about the 'special' equation they have going, to which Gautam responded that she doesn't need to be unnecessarily possessive and that he'll have it sorted with Sonali. A love triangle in the making? Only time will tell.
The couple then got down to doing what they do best – nuzzle and show some love to each other. The conversation, however, didn't end there and they spent hours into the night discussing the matter at hand. In other news, Sonali opined and shared her views with Upen Patel on the new couple. She said while Diandra might be serious, Gautam is just posing as a lover.
Next morning, candidates running for captaincy – Pritam Singh and Praneet Bhatt – were given an opportunity by Bigg Boss to kick start a campaign, in which they would talk at length with every housemate and convince them into voting for the right leader.
Winning the task by six votes, Pritam is now the new captain of the house. However, soon after he was elected, the RJ was asked to give five names, which he wishes to nominate for elimination for the week. And while he was in the confession room, the inmates watched a live footage of the procedure in the living room.
Shocking everyone, he nominated Puneet Issar adding that he influences the group P3G a lot and that shouldn't happen. Karishma Tanna, Ali Quli Mirza, Dimpy Mahajan, and Diandra are other contestants in the danger zone.
The twist in the tale, surprisingly is that the makers have closed voting lines for the week, which has left viewers wondering how they can save their favourite stars from the show.