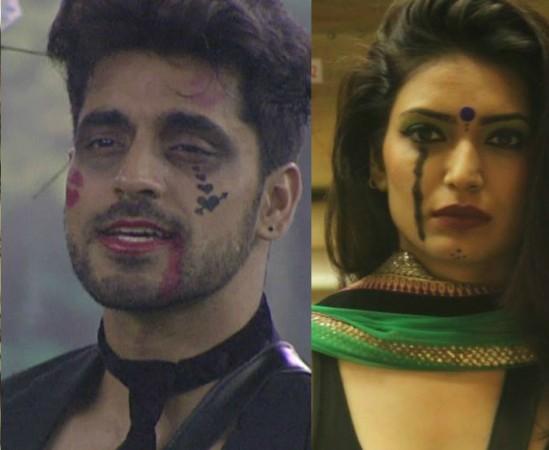 Day 43 in the "Bigg Boss 8" house was all about Gautam Gulati and Karishma Tanna's disagreement over certain matters.
As part of a task, Gulati and Tanna were blind folded, given two placards (which read 'yes' and 'no') and asked a couple of questions by Bigg Boss. While the two were busy answering them, housemates seated themselves in front of the TV screen placed in the living area.
Like always, Tanna began bad-mouthing 'Mr. Misunderstood' and pointed out that his attitude is what is not liked by people. She also added that sympathy votes is what is keeping him in the house, else he would have been eliminated in the first few weeks itself since he is unpopular.
However, the task was a real game changer as it exposed Tanna's true colors and gave an opportunity to Gulati to redeem himself. While she argued her makeup was more important than saving anyone, he said it would only be fair if they together thought of the well-being of the house.
After relieving Sushant Divgikar of his duties as a 'sevak' (servant) and settling on bringing in more number of plates for the house, they stepped out only to find dynamic shifts in equation. The housemates lauded Gulati's stand, whereas Tanna's immature, selfish behavior drew major flak.
Upen Patel, Arya Babbar, Ali Quli Mirza and Divgikar hugged Gulati and ironed out their differences. On the other hand, Diandra Soares, who claims to share a thick bonding with Tanna, said she looked really bad while arguing in favour of her personal needs.
And not very surprisingly, this sparked a massive social network reaction, in which Gulati was declared the hero and Tanna was labelled the vamp.
Here are some of the tweets:
iamSunita: Atleast housemates now know abt Gautam's honesty, he actually doesnt take things personnally, Upen,Sushant even kissed and hugged him. #BB8
GauaharKushal: Karishma was calling gautam a ugly guy from the inside, please karishma needs to look at herself first #BB8
Piyush Prem: Gautam handled that so gracefully. What a bro. Today I learned that makeup can't actually hide your ugliness. #BiggBoss8 #BB8
Niteshkumar: Gautam showed why people of india love him&hate tanna.finally the mask is out&every body knows the truth who selfless&who is selfish.#BB8
SHIKHA KHANNA: Tanna: Arguing with Upen and diandra over her make-up Gautam: Waise pimples make up se he aate hein ha ha ha Epic episode #BB8