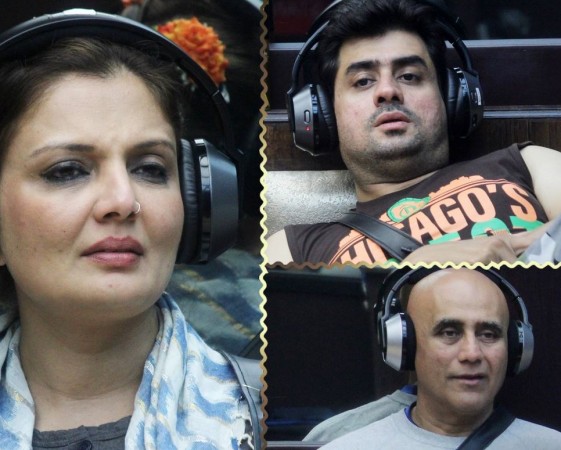 The fifth day of "Bigg Boss 8" kicked off on a lively note with contestants being woken up to the song "Ice Cream" from the film "The Xpose". All the members stepped out of the plane and shook a leg in the garden area.
After a positive start to the day, Praneet Bhatt had a spat with Gautam Gulati over kitchen matters, which also turned Diandra Soares against Bhatt.
While everyone lazed around and carried on with their daily chores, a major change took place inside the Secret Society. The members were given a huge task of choosing the weakest member amongst themselves and the chosen one would no longer remain the privileged member and enjoy immunity that is otherwise granted to the Secret Society. Instead the weak link was set to step down and live with other contestants in the flight.
After some thought, the Secret Society came to an agreement that Puneet Issar was more sensitive towards the passengers and hence the weaker amongst the others. With this, Issar was sent to the house, while Deepshikha Nagpal and RJ Preetam continue to be the privileged members of the Secret Society.
The inmates were in for a surprise when lights and smoke covered the garden area and Issar made a dramatic entry into the house. The actor was welcomed in the house with loud cheers.
While all the passengers were excited to have a new member, Arya Babbar was a little skeptical regarding the purpose of Issar's entry. Babbar discussed the matter with Upen Patel late at night and the duo wondered if Issar's entry was a part of the Secret Society's task and if he is still playing on behalf of the three privileged members.
Babbar pointed out that Issar wasn't giving definitive answers when he was asked something and instead gave contradictory versions to everyone. They also discussed how the new member bonded with the other contestants within just a few hours of his entry. However, Patel appeared confident that Issar would not be able to break the bond that others share since day one.
While the house has been all about tasks and eliminations in the last few days, actor Bhatt received a pleasant surprise when his mother wished him on his birthday. Emotional Bhatt received hugs from his housemates, who too got teary-eyed.
A small cake and some clothes were sent to mark his birthday. Though he initially appeared to be touched by the gesture, he later lost his temper when he found out that the Secret Society had sent him costumes from his on-screen role. He expressed his disappointment by refusing to abide by the rules of the Secret Society.