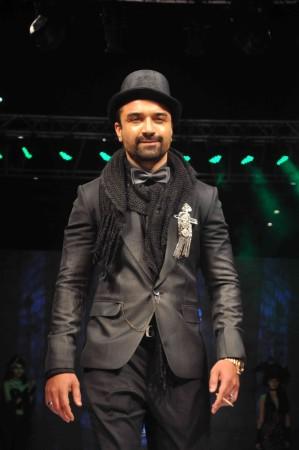 Farah Khan's "Bigg Boss Halla Bol" has brought in new twists and turns to the season with the challengers and champions fighting it out to win the reality show.
But on the day 2 of the new series, an unexpected eviction took place when challenger Ajaz Khan was thrown out of the house due to his aggressive behaviour with champion Ali Quli Mirza.
It all started with Ali and Ajaz getting involved in a spat, which soon turned into an ugly argument so much so that latter ended up punching the champion hard. Following the incident, Bigg Boss asked Ajaz to leave the house on account of his violent behaviour.
Though it was clear to the viewers and inmates that Ajaz has been permanently ousted from the house, Ajaz's manager has claimed that Bigg Boss has only shifted him to the secret room until they come up with a decision.
"Even Puneet Issar, Sonali and Pritam have been accused of violence, but none was asked to leave, then why Ajaz? Bigg Boss fans are seeing that Ajaz has been controlling his anger and it is Ali who provoked him. Ali has been aping Ajaz since the time he has entered the show. They have been friends for the past 15 years now, and it was Ajaz who recommended Ali's name for the show. Right now he is being targeted due to his fan following and popularity. Ali is simply making things up," the manager told Deccan Chronicle.
Even fans of Ajaz find Bigg Boss' decision unfair as it was Ali who provoked him and has urged the channel to bring him back on the show. Hashtags #wewantajazback #ihatealiqulimirza have been trending on Twitter ever since.
But when the daily contacted the channel, they confirmed that Ajaz has been ousted from the show and has already left for Mumbai.
However, it now remains to be seen if Ajaz returns to the show or Bigg Boss replaces him with a new challenger in order to keep up with high TRPs.
There were also reports that Imam Siddique, one of the most controversial contestants of the sixth season, might replace Ajaz.