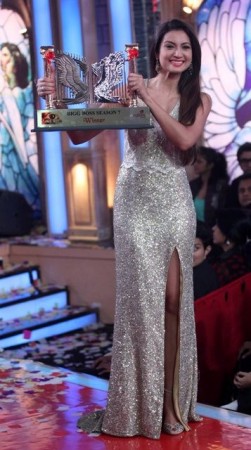 Model turned actress Gauhar Khan, who won the reality show "Big Boss 7" beating Tanisha Mukherjee, her arch-nemesis in the house, has revealed that having the actress as her final competition provided a valid and meaningful conclusion to her journey in the show.
"Winning this show would have lost its meaning had the last finalist opposite me would have been anyone other than Tanisha. We both were strong personalities and equally strong contenders," Gauhar told Mail Today.
She explained that the experience of facing Tanisha in the final two was 'pleasurable.' "The difference of opinion between us was way too rampant, and so I had secretly desired that if I get to be in the final round, it should be opposite Tanisha," the 29-year-old said.
The "Neal and Nikki" actress was often seen referring to Gauhar as 'unfair' and even a 'liar' but the model clarified: "I never had any ill feelings towards Tanisha. She is a nice person who was caring towards other housemates, but, for some reasons she had some issues with me which, I could never understand. Clearly, I was not one of her friends. But, thanks to her judgmental attitude towards me, I remained inspired and energetic to prove her wrong. I guess her comments kept me going," added Gauhar.
On being asked of their probable friendship, Gauhar said that they will remain cordial towards each other. Tanisha too had echoed Gauhar's thoughts earlier, adding that they might not be friends in near future.
Meanwhile Tanisha's mother, Tanuja, who surprised her daughter with her presence in the show's finale was apparently uncomfortable with attending the event.
The veteran actress is said to have confined herself to her car and only came out to attend the final minutes before the winner was declared, reported Mid Day.