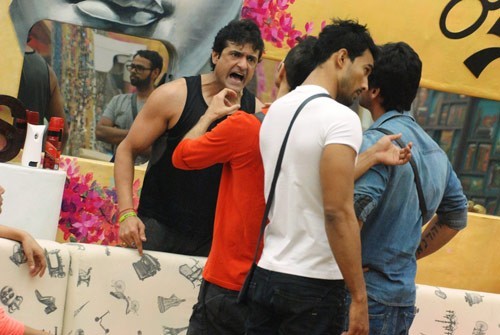 "Bigg Boss" contestant Armaan Kohli is all set for a face-off with VJ Andy on Tuesday's episode of the television reality show.
This week's luxury budget task - 'chor-police' - will see some of the housemates being made the police and the others wil settle as thieves. The thieves will have to steal a briefcase and score points in the task.
Armaan is made a cop while Andy and others including Tanisha, Sofia, Ajaz are allotted the thief's task. The game is seen going haywire when Armaan twists Andy's wrist as he catches him red-handed. Infuriated with Armaan's treatment, Andy shouts back at him. He shows his reddened wrist to the cameras, making Armaan lose his temper.
Chaos erupts in the house as Tanisha and the others try to pacify Armaan and Andy. A sneak peak of the episode shows a frustrated Andy demanding Bigg Boss' intervention in the situation.
Interestingly, Andy and Armaan were handcuffed together in the previous episode and the two seemed to get along pretty well. Even Armaan was seen clarifying his stand to Andy on the Sofia-Ajaz issue. But their equation takes a drastic turn on Tuesday's episode.
With Andy's accusations against Armaan, it remains to be seen whether Armaan will be shown the door just like Kushal Tandon for inciting violence or be excused with a mere warning.