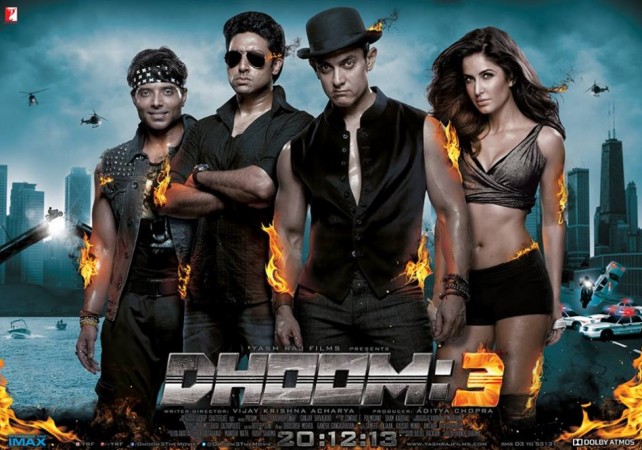 Aamir Khan is on crossroads when it comes to promoting "Dhoom 3" on Salman Khan hosted reality show "Bigg Boss 7".
Aamir is known to share a good rapport with Salman, but this would hardly benefit his upcoming film "Dhoom 3".
"Bigg Boss 7" has become a fetching platform for promoting films ahead of their release. But a similar route may not be taken by the "Dhoom 3" makers, courtesy Katrina Kaif.
Considering Salman's past history with Katrina, the film's makers are unlikely to use the show to promote his ex-flame's film.
Aamir also clarified that there is no possibility of promoting "Dhoom 3" on "Bigg Boss". He instead said it is a well-made film and didn't require such promotional gimmicks.
"We are not going anywhere to promote 'Dhoom: 3'. We believe that less is more for this film and even curiosity will be there. Aditya Chopra (producer) is confident about this film, and even I am very happy with this film," Aamir told The Times of India.
Aamir is known to have mastered the art of marketing in Bollywood and it is without doubt that Bollywood's perfectionist will devise unique ways to promote his latest.
Katrina may not be the only concern for the "Dhoom 3" team. The action flick also stars Abhishek Bachchan in the lead. Being husband to Aishwarya Rai, Abhishek would find himself in an awkward situation should he cross path with the "Dabangg" star.
Salman has never been spotted with Abhishek at any event but he shares a comfortable rapport with Amitabh Bachchan.
Despite his unfavourable equation with Katrina and Aishwarya, Salman has popped their names quite casually much to everyone's surprise. He has on numerous instances compared "Bigg Boss" contestant Eli Avram's striking resemblance to Katrina. He even mentioned Aishwarya when he said eliminated contestant Shilpa's eyes reminded him of the former Miss World.