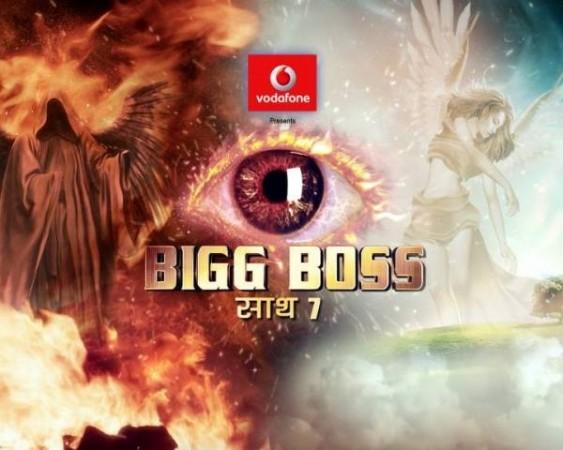 Day 33 of the reality show Bigg Boss 7 had most contestants boasting about each other's credibility to prove their excellence over others.
Since Yoga teacher Vivek Mishra's entry on Thursday, contestants were seen having a morning session with the trainer. A hilarious situation unfolded as Armaan, Apoorva and others were seen aping asana with tongues sticking out. Andy made hilarious faces behind Mishra's back while Tanisha was seen mocking the activity.
In the afternoon, Big Boss 7 inmates had assembled around to perform the task of placing all the 13 members in descending order based on their professional achievements and popularity.
Many voiced their opinion of bagging the top position. First of all, Asif vouched for the top spot as he had the maximum number of females voting for him in the season. However, his claim was countered by Pratyusha, Andy and Kamya.
Everyone else then took turns to boast about their career achievements and it was finally decided to put Pratyusha Banerjee on the 1st spot based on her popularity in television series "Balika Vadhu". While former Mr. India winner Kushal was placed second, Kamya was third followed by Gauhar, Armaan, Tanisha, Apoorva, Shilpa, Andy, Sangram, Asif, Eli and Vivek in respective rankings.
Under the power entitled by Bigg Boss, Pratyusha nominated Armaan and Apoorva to be the house captains.
Apoorva emerged as the favourite among the inmates and won the house captaincy with 10 votes as compared to Armaan's meagre three votes.
An interesting task was allotted later in the day, where the housemates had to convince captain Apoorva to buy stuff from them. The task ended with Kamya Punjabi as the winner as she sold her rolling pin with the highest price tag compared to the rest.
As a reward, Kamya traded off her winning money for the precious photographs of her little daughter's recent birthday, which she missed due to the reality show. The television actress had revealed earlier that she had divorced her husband a month before entering Big Boss 7 and was worried about her daughter.
During this episode, the Yoga teacher revealed that Armaan was already engaged and was only bluffing the romance with Tanisha. In another development, Pratyusha went to her once good friend Armaan and blamed Tanisha directly for the present differences between them. In response, Armaan proposed that he might stop talking to Tanisha, which came as a complete shock to the actress.
The sneak peak to the next episode, which is also the elimination day, revealed a tense situation with a probable faceoff between Armaan and model Asif. Housemates are seen trying to separate the angry men from each other.