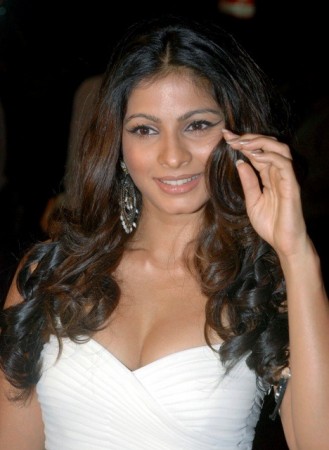 Reality show Bigg Boss 7 might see a major twist in the coming episodes, with the possibility of actress Tanisha Mukherjee being eliminated from the house.
It is no secret that Tanisha's family is displeased with the actress' antics in the house and it is now being said that Ajay Devgn, the actress' brother-in-law is trying hard to get her out of the house to avoid further disgrace to the family.
The actress was recently captured getting intimate with Armaan in the show's live feed. The news created chaos amongst the show's crew and also the influential Bollywood family.
"There's pressure on the channel to evict Tanishaa from the show... Last week's reports have shocked Tanishaa's sister Kajol and mom Tanuja and they pressed Ajay to make that call to Salman, Daily News & Analysis quoted a source.
"Ajay called Salman and requested him to look into the matter and find a way of evicting Tanishaa. Her eviction is being planned in the next couple of weeks. It remains to be seen if the channel will agree as it's all about TRP's and Tanishaa and Armaan's on-screen antics create a lot of buzz."
Armaan and Tanisha's equation in the show has continuously been under the scanner. The duo has been caught getting intimate on several occasions and even Salman Khan has warned them in the past.
Recently, Kushal too had informed Tanisha about how the audience perceived her as a woman in love with Armaan. But the duo appears to have ignored all advices and continued with their antics. Tanisha in a recent episode had hinted about her feelings for Armaan, which must have obviously irked her already displeased family.
It was earlier reported that the actress's eviction was planned early in the show, but model Asif was eliminated instead.
Even though this week, the show will have no eviction, it remains to be seen whether Tanisha's influential family succeeds in getting her evicted in the coming weeks.
Let us know your take on Tanisha's antics in the house, in the comments section below.