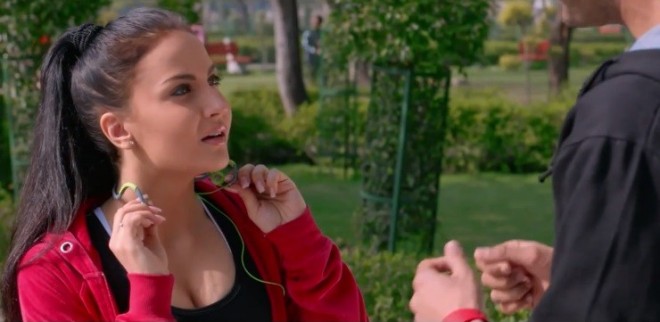 Anybody who debuts in film industry would love to see the reaction to his/her first film but Elli Avram has been deprived of what could be a memorable moment because of her participation in Bigg Boss 7. Because of the television reality show, Elli could not attend the premiere of her debut film, "Mickey Virus", let alone promoting the film.
"Mickey Virus" was released on Friday after a special screening the day before. It was reported that Bigg Boss 7 host Salman Khan would allow her to attend the premiere of the film but that did not happen.
Television anchor Manish Paul, who also makes debut in "Mickey Virus" alongside Elli, said in an interview to BollywoodLife that he missed her during the film promotions.
"I am missing Elli," Paul told Bollywood Life when asked about his co-star during the promotions. "I remember we used to sit and discuss how Mickey and Kamaini will promote the film. So I am obviously missing her, but I am happy for her, 'coz she is in Bigg Boss right now. She is doing really well."
Directed by Saurabh Varma and produced by DAR Motion Pictures in association with Awesome Films Pvt Ltd and Trilogic Digital Media Ltd, "Mickey Virus" is a thriller comedy featuring Manish Paul, Elli Avram, Manish Choudhary, Varun Badola and Puja Gupta in the lead roles.
The makers of the film organised a special screening ahead of its release and several celebrities like actor Jeetendra, Lauren Gottlieb, Gurmeet Choudhary, Dhristi Dhami and Karan Wahi graced the event.
Besides missing the premiere of her debut film, Elli had a hard time inside the Bigg Boss house recently. She was hit on her forehead by Armaan though unintentionally. She was earlier seen crying after Armaan teased her by calling her Chammak Challo.