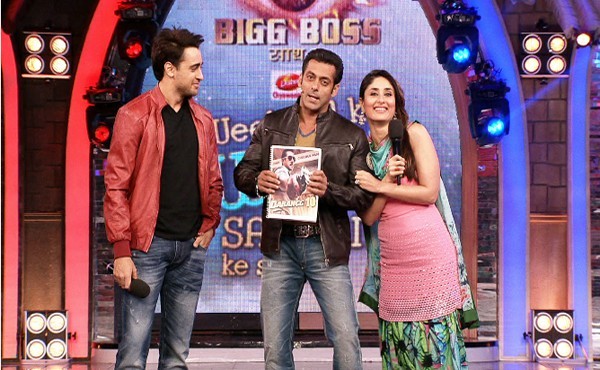 Salman Khan had a gala time with Kareena Kapoor and Imran Khan on his reality show "Bigg Boss".
Kareena and Imran made a special appearance on Sunday's episode for the promotion of their film "Gori Tere Pyaar Mein." They were seen inside the house where the inmates danced to their 'tooh' song while contestant Ajaz Khan again mimicked Saif Ali Khan to impress Kareena.
But it was Salman and Kareena's tongue-in-cheek conversations which grabbed much attention. As Salman teased Kareena with her newfound royal surname, the actress got a "Dabanng 10" script and asked him to take an oath that he would not pull her or husband's leg. The superstar however, dismissed jokingly that nobody even talks about Saif, to which the actress remarked she would never come on teh show again.
At one point Kareena even made Salman take his shirt off along with Imran. But the actress opined that Saif had better abs, which left the superstar in a confused state.
Salman also took a veiled dig at Shah Rukh Khan when he told Imran that his friend too played a South Indian character in "Ra-On" and then burst into laughter. Even when Kareena was asked about her favourite Khan, Salman quipped Shah Rukh's name but the actress said Aamir Khan was her choice.
Kareena talked about Salman's chilled-out attitude on film sets where he is usually at his humorous best. She also admitted about being late most of time for shooting like Salman. At this, the "Dabanng" star comically explained why directors like Karan Johar and Sanjay Leela Bhansali refused to work with him.
Salman's fondness for the actress was evdient as he hugged her and said taht he loved both Karrena and elder sister Karishma.
Later, evicted contestant Pratyusha Banerjee made an appearance and while talking to Salman said that Andy was the worst contestant in the house. She voted Kamya as the house's hero and conferred her with the captaincy title of the week.
A major twist on Monday nominations are to be witnessed when the housemates are divided into odd pairs and asked to nominate members with mutual consent. With conflicting pairs Gauhar-Tanisha, Armaan-Andy, Sofia-Eli and Ajaz-Sangram it remains to be seen what becomes of the nominations this week.